This is one of a series of articles leading up to the 10th annual Startup Bus event, which takes place from Wednesday, July 24 though Sunday, July 28th. I'll be on the Florida Startup Bus, where I'll be a hustler with a group that will spend three days on a bus, building a software, a business model, and a pitch, all of which we'll present before a panel of judges in New Orleans! I hope these articles convince people to join Startup Bus, inspire the "Buspreneurs" who will be participating, and get the rest of you to find out more.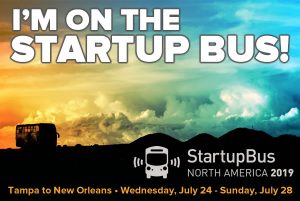 If you check out only one of my Startup Bus articles, make it this one. This one contains the episodes of the podcast Startup that cover the Startup Bus team that departed from New York. These episodes contain insight and intel that will be valuable to Startup Bus participants. I've already listened to all of these twice, and plan to give them a couple more listens to make sure that I didn't miss any important observations, hints, or clues.
For my own benefit and the benefit of my fellow Buspreneurs, I'm posting the episodes here, along with my notes — well, a small snippet of those notes, anyway. I'm keeping some of them for myself and my team (whoever they end up being!).
The intro
This is the podcast episode that tells you that there will be more podcast episodes. You can safely skip this one; I'm including it only for the sake of being thorough.
Day 1: Coming up with the idea
Start with this one, in which some of the buspreneurs come up with an idea, pitch it to their fellow riders, and form teams. One of the buspreneurs' ideas is a morbidly interesting one.
If you're going to be on the bus, please, for the love of all that's holy, please observe this rule: "The number one rule on StartupBus is there's no number two on the bus. You get what that means? Rule number one. No number two on the bus."
This is the episode in which we get to meet the people on the bus and get some of their back stories.
There's an interesting array of ideas being pitched: a funeral-planning app, an anti-phishing tool, and — of course — someone saying "we should build something based on blockchain!"
The important lesson from this episode? "So every year, pretty much this happens a lot, is that you end up wasting so much time today trying to validate an idea that has already been invalidated, just now."
Day 2:
The challenges begin.
Eric the narrator has a realization: "When I was growing up, my family was very into a particular kind of reality tv—competition shows… I thought I'd be reporting on a hackathon. I'd find one person, going through something interesting, and we'd just see how their week played out. Pretty simple. But when I woke up in a hotel in Raleigh, North Carolina that Tuesday morning, and I saw a giant "StartupBus" decal on the charter coach outside my window, I had this realization that would have thrilled my younger self to no end: "Holy shit. I'm not just reporting a story about a hackathon, I have landed inside a real life competition show."
"To get the day started, each team sends one person to the front of the bus to practice their pitch over the intercom. This is something that happens a lot on StartupBus—people are practicing their pitches constantly."
Startup Bus borrows a big trick from reality TV shows: surprise obstacles. When the bus pulls into Charlotte, North Carolina, the New York team finds out that they'll be pitching against two other teams — Akron and Tampa.
Introducing local heroes Robert Blacklidge and Trey Steinhoff! "Robert and Trey, very on top of things," the narrator says approvingly, and he presciently sees that their idea — CourseAlign — has legs.
"And the Ohio bus is impressive in its own way. It turns out they teamed up with some people from San Francisco, and they're manufacturing physical products. So they have 3D printers and computer aided design software. The whole thing feels like that scene in "The Sandlot" when the other team shows up in their actual jerseys and matching converse sneakers, and all of a sudden you realize, 'Oh… this is some real competition.'"
Also: gender dynamics. On one team, there's a good news/bad news thing going on because they're electing one of the women to be CEO; the bad news is that it's a job that none of them particularly want, and a lot of it will be about reining in unruly behavior. On another team, a "that's just who I am" kind of guy butts head against a young woman on his team.
Day 3:
It's like a reality TV show!
"The thing about StartupBus is that it really is like a reality TV show. It's so intense that every interaction, every personality can feel like a caricature of real life."
"Now, if you were to look at a map of this trip on StartupBus, you'd realize it's a pretty insane route. It jogs and meanders. It's nowhere near the quickest path to New Orleans. I mean, we spent a full 24 hours just in North Carolina."
We get to find out more about Ash.
"Despite all their troubles—the personal dramas, the failed ad campaigns, the miscommunications—the teams all feel really good. They've overcome a lot. And they've built actual working products. In three days. On a bus."
They arrive in New Orleans!
Day 4:
The moment of truth: the teams arrive in New Orleans and make their pitches in front of the judges!
Another appearance with Tampa-based Robert Blacklidge and Trey Steinhoff, and their startup, CourseAlign! Eric the narrator can't stop gushing about how well Robert and Trey get along (of course, we in the Tampa tech community know how easy it is to get along with them).
The sound system at the venue isn't what it should be: "The setup for the pitches is, in a word, janky. There's a microphone plugged into an old guitar amp, and it's very prone to feedback. And given the size and concreteness of this room, the teams all sound like they're pitching from the bottom of well."
An observation: "With 22 teams, it's inevitably a mixed bag. Some of the ideas seem a little half-baked, others are good ideas with a lackluster pitch. Still others seems like they've really got it together." One of the startup's pitch people delivers her pitch with a song, dressed up as Marilyn Monroe, complete with iconic white dress and blonde wig.
For most of the pitches, only some of the audience is paying attention while others are working away on their own projects. But when it's Daisy's turn and Colleen makes her pitch, "something remarkable happens. The room goes silent. People in the back shuffle their way forward to the stage. They pull out cell phones and start taking videos. She commands the room in a way no other team has managed."
Initially, when Eric asks to record the judges while they deliberate, they say "no". Then they change their minds, and we get a look into their decision-making process.
Day 5:
As you'd expect, we find out who wins — and a surprise challenge.
Eric the narrator and Colleen from Daisy go for a walk and talk about their lives and their families. Colleen reveals her approach to coming up with a startup idea: "My strategy for hackathons is I think of things that have been bugging me the past week. Like packing. So I thought of like something that I was worried about and I was like, "OK, death." And there weren't really that many death apps out there."
More love for Robert and Trey!
There's some controversy: Elias Bizannes, founder of Startup Bus, adds a sixth team made up of non-finalists, who now have less than a day to build a startup and present against the other finalists. There's a great amount of concern about this last-minute addition. It turns out that it's just another challenge: "It's classic reality TV. They did it on "The Bachelor" just last season, when they brought back one of Nick's former loves. It was just before the finale, and they were trying to resurface old feelings, to throw him off his game. StartupBus is meant to mimic what it's like to start a company in real life. And it does. But it also mimics reality TV. And in every reality TV show, there are producers in the background pulling strings, creating drama. That string-pulling got the sixth team onto the stage, but it does not guarantee them a win."
"From the moment the pitches begin, it's apparent. This is a very different level of competition than yesterday. The presentations are all well-crafted. Each of the products makes sense. You could imagine people making these pitches to actual investors."
And finally, the winner is announced, and from the "Grey Poupon" accent, it's easy to tell that  person doing the announcing is another Tampa hero: Sourcetoad CEO Greg Ross-Munro!