Every week, dedicated individuals and organizations in around the Tampa Bay do more than just their "day jobs". They get involved in events where they share their knowledge, make connections and friends, and gather together to build strong tech, entrepreneur, and nerd communities. That's why I do this every week: I put together a list of tech, entrepreneur, and nerd events to make sure that they can be found and you can attend them!
Here's what's happening in Tampa Bay this week!
This weekly list is posted as a voluntary service to the Tampa tech community. With the notable exceptions of Tampa iOS Meetup and Coders, Creatives and Craft Beer — both of which I run — most of this information comes from Meetup.com, EventBrite, and other local event announcement sites. I can't guarantee the accuracy of the dates and times listed here; if you want to be absolutely sure that the event you're interested in is actually taking place, please contact the organizers!


Monday, January 27
Looking to talk about the craft of developing software over a nice drink? Monday's Lean Beer for Software Craftspeople in Dunedin might be just what you're looking for! Following the "Lean Coffee" structure but with beer, this gathering is a great way to meet your fellow local coders, share ideas about software development, and perhaps learn something new.
Tuesday, January 28
The Java Junkies meetup combines with Tential Tuesday for a session featuring Elastic's Nathan Reese, who'll talk about Elastic Maps, which combines traditional search with geoquerying to create a singularly powerful information retrieval experience. He'll also also dive into how to deliver findings and metrics through maps and dashboards using the Kibana visualization platform.
Wednesday, January 29
Thursday, January 30
In the Tampa Bay UX Group meetup of the year, Anitra Pavka (author of O'Reilly's HTML5 Cookbook's "Accessibility" chapter) and Joey deVilla (mobile developer at Lilypad, organizer of Tampa iOS Meetup, and author at raywenderlich.com) will present What's new in iPhone accessibility. This will be more than just a tour of iOS 13's new accessibility features, but also an introduction to creating more accessible apps using Apple's SwiftUI framework!
Friday, January 31
It's time for another Demo Day at Suncoast Developers Guild! Demo Day is when the current cohort present their capstone project applications to an audience of local tech companies, engineers, and supporters of the tech community. This is your chance to see first-hand demonstrations of the applications and get to know their developers/graduates.
Saturday, February 1
After five years of fun and games, Grand Arena of Mind Expansion is closing its doors and selling off their goods on Saturday. While this is a sad event, it's also an opportunity to buy just about anything in this games club: games, consoles, tables, chairs. shelves, TVs, projectors, and more — it's all got to go! They're asking for 50% MSRP on items sold.
Sunday, February 2
There weren't any tech, entrepreneur, or nerd events listed at the time scheduled for Sunday at the time of writing.


Do you have an upcoming event that you'd like to see on this list?
If you know of an upcoming event that you think should appear on this list, please let me know!
Join the mailing list!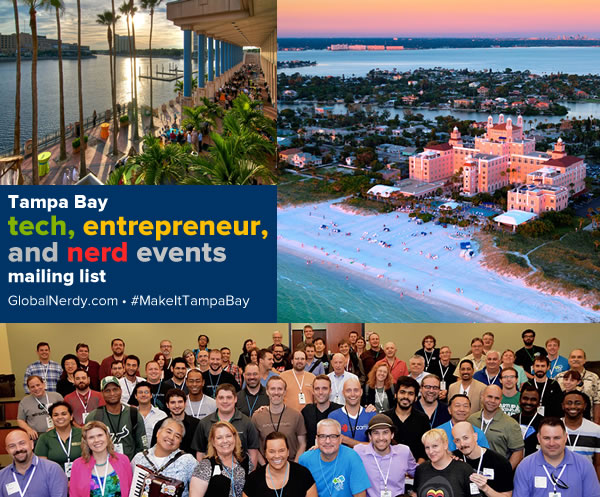 If you'd like to get this list in your email inbox every week, enter your email address below. You'll only be emailed once a week, and the email will contain this list, plus links to any interesting news, upcoming events, and tech articles.
Join the Tampa Bay Tech Events list and always be informed of what's coming up in Tampa Bay!