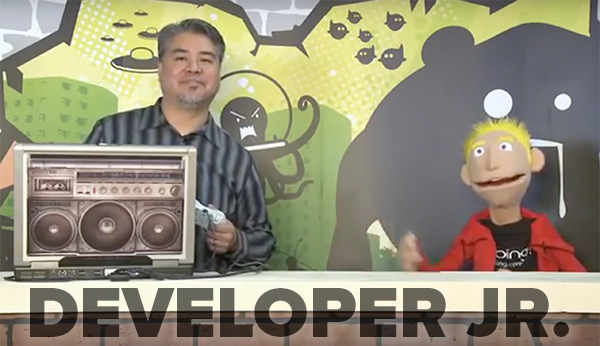 I had a lot of fun, surreal moments during my time as a developer evangelist at Microsoft, and among the most surreal and fun was the short-lived time when I had a technology show for kids called Developer Jr.
Hosted on Butterscotch.com, a technology education video site launched by Tucows (a prior employer) in 2008, Developer Jr. was an online video show for children ages 7 through 12. Our goal was to teach kids programming and other creative things they can do with computers and technology (particularly Microsoft technology). It starred me as the host and tutor, and "Junior", an impish puppet played by Brian Hogg. It was sponsored by Microsoft Canada and produced at Butterscotch.com's studios in Toronto's Liberty Village neighborhood in early 2010.
The premiere episode showed how you could use the code-free game development system Kodu (which ran on Windows and the Xbox 360) to make your own videogames:
The follow-up episode covered making your own movies with Windows Live Movie Maker:
There was also this interview with Butterscotch.com's Matt Harris in which we discussed the making of Developer Jr.:
Unfortunately, Developer Jr. was cancelled after two episodes for financial reasons. There wasn't a department within Microsoft Canada who had a budget aimed at the 7 – 12 year-old set.
I'm still pretty pleased with the work that we did during that too-short season, and I'd like to thank Brian Hogg, video wizards Sean Carruthers and Matt Harris for making the magic happen, and Andy Walker for getting the whole thing started!