Once again, here's the weekly list of events for events for Tampa Bay techies, entrepreneurs, and nerds. Every week, on GlobalNerdy.com and on the mailing list, I scour the announcements for events that are interesting to or useful for those of you who are building the future here in "The Other Bay Area, on The Other West Coast".
This list covers events from Monday, September 21 through Sunday, September 27, 2020.
I've opted to list only those events that I can confirm are happening online. I'm not yet listing in-person events, as we're still in the middle of a pandemic in one of the hardest-hit states in one of the hardest-hit countries in the world, and we've passed 200,000 deaths, which is over 20% of COVID-19 detahs worldwide.
Events — especially virtual, online ones — can pop up at the last minute. I add them to the list as I find out about them. Come back and check this article from time to time, as you might find a new listing that wasn't there before!
The 2020 Florida Entrepreneur Community Survey needs your input!
Hey, Florida-based founders, startup talent, investors, students, educators, ESOs (entrepreneur support organizations), and professionals — your input is needed! The 2020 Florida Entrepreneur Community Survey needs your input.
It's a quick survey (I know, because I took it), but the information you provide will help inform Florida stakeholders on how they can make the Sunshine State a better place for entrepreneurs to build thriving companies.
The survey is produced by Embarc Collective, a combination tech accelerator, innovation hub, coworking and gathering space, and all-round contributor to Tampa Bay's tech and entrepreneur scene.
They've expanded the scope of this year's survey to cover not just Tampa Bay, but all of Florida to better determine how they can identify and improve opportunities to help Florida's regional entrepreneur community thrive.
This week's events
Monday, September 21
Tuesday, September 22
Wednesday, September 23
Thursday, September 24
Friday, September 25
Saturday, September 26
Sunday, September 27
Do you have any events or announcements that you'd like to see on this list?
Let me know at joey@joeydevilla.com!
Join the mailing list!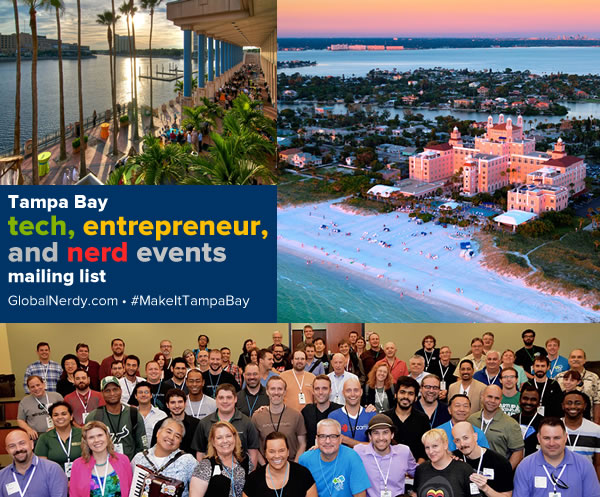 If you'd like to get this list in your email inbox every week, enter your email address below. You'll only be emailed once a week, and the email will contain this list, plus links to any interesting news, upcoming events, and tech articles.
Join the Tampa Bay Tech Events list and always be informed of what's coming up in Tampa Bay!