Welcome to June!
Here's your list of tech, entrepreneur, and nerd events for Tampa Bay and surrounding areas for the week of Monday, May 31 through Sunday, June 6, 2021.
This is a weekly service from Tampa Bay's tech blog, Global Nerdy! For the past four years, I've been compiling a list of tech, entrepreneur, and nerd events happening in Tampa Bay and surrounding areas. There's a lot going on in our scene here in "The Other Bay Area, on the Other West Coast"!
By "Tampa Bay and surrounding areas", this list covers events that originate or are aimed at the area within 100 miles of the Port of Tampa. At the very least, that includes the cities of Tampa, St. Petersburg, and Clearwater, but as far north as Ocala, as far south as Fort Myers, and includes Orlando and its surrounding cities.
How long will this list contain only ONLINE and OUTDOOR events?
Three Thursdays ago, the U.S. Centers for Disease Control and Prevention (CDC) announced that anyone who is fully vaccinated — meaning that they had their final vaccine two weeks or longer ago — can now stop masking and social distancing, including indoors in many cases. That means this list will start including in-person events, right?
Not just yet. This list will stick to online and outdoor events for the time being.
As I write this:
38.9% of the Florida population has been fully vaccinated (I'm one of them), and 49.0% has had their first dose.
41.0% of the U.S. population has been fully vaccinated, and 50.1% has had their first dose.
Those numbers are a good sign, but they could be better. I'm holding off on listing indoor in-person events until after the 4th of July for the following reasons:
Most of the events aimed at a tech, entrepreneur, or nerd audience are still being held online.
The CDC's announcement depends on people exercising good judgement. We live in Florida. Do the math.
If the CDC's call was right, we'll know by July 4th. If the CDC's call was wrong, we'll also know by July 4th.
I'm looking forward to life getting back to normal, but I'm also happy to exercise a few weeks' worth of caution because I think it's worth it.
Stay home, stay safe, stay connected, and #MakeItTampaBay!
This week's events
Monday, May 31
Remember, it's Memorial Day, and a number of Meetup groups are regularly scheduled on "autopilot". The events listed for this day may ro may not actually be happening — check with the organizers to be sure!
Tuesday, June 1
Wednesday, June 2
Thursday, June 3
Friday, June 4
Saturday, June 5
Sunday, June 6
Do you have any events or announcements that you'd like to see on this list?
Let me know at joey@joeydevilla.com!
Join the mailing list!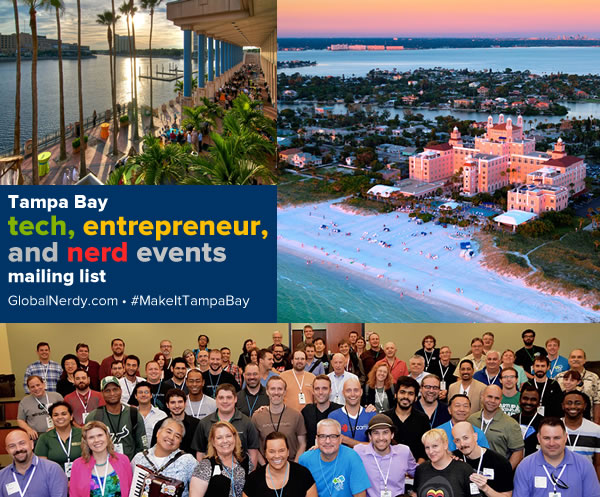 If you'd like to get this list in your email inbox every week, enter your email address below. You'll only be emailed once a week, and the email will contain this list, plus links to any interesting news, upcoming events, and tech articles.
Join the Tampa Bay Tech Events list and always be informed of what's coming up in Tampa Bay!