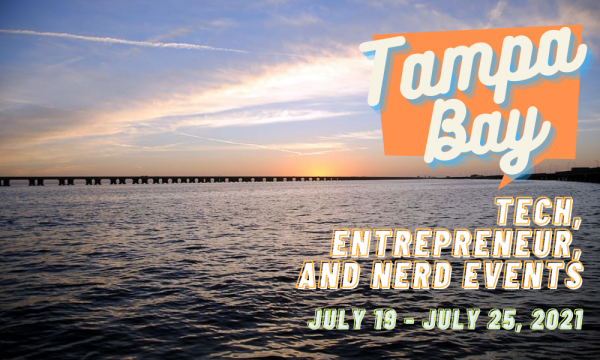 Here's your weekly list of tech, entrepreneur, and nerd events — plus a little area tech news — for Tampa Bay and surrounding areas for the week of Monday, July 19 through Sunday, July 25, 2021.
This is a weekly service from Tampa Bay's tech blog, Global Nerdy! For the past four years, I've been compiling a list of tech, entrepreneur, and nerd events happening in Tampa Bay and surrounding areas. There's a lot going on in our scene here in "The Other Bay Area, on the Other West Coast"!
I'm moving this list to Fridays so that you've got more time to plan for the upcoming week. Let me know if this change works for you (or if it doesn't)!
By "Tampa Bay and surrounding areas", this list covers events that originate or are aimed at the area within 100 miles of the Port of Tampa. At the very least, that includes the cities of Tampa, St. Petersburg, and Clearwater, but as far north as Ocala, as far south as Fort Myers, and includes Orlando and its surrounding cities.
This week's events
Monday, July 19
Tuesday, July 20
Wednesday, July 21
Thursday, July 22
Friday, July 23
Saturday, July 24
Sunday, July 25
Tampa Bay area news roundup
"Boomerang workers" — those who've returned to their hometowns to do remote work — rose with the pandemic, but the phenomenon shows signs of sticking around beyond it. For example, a large number of Tampa Bay natives have returned to the area after stints in bigger cities, bringing their contact lists and industry expertise with them.
Over the last decade, the Tampa Bay Area has transitioned into a place that helps technology startup companies succeed, making it possible for them to show up on the national radar. Capital sources across the country have begun referring to Tampa as a top emerging market. 
iApartments was founded in 2019 and born out of the three co-founders' experience working in the industry. Fiske is a founding partner of Unikey Technologies, which operated in the smart home industry. He also an entrepreneur-in-residence at the Tampa Bay Wave, a local startup incubator. iApartments CEO Dave Magrisso is the founder of Valet Waste, which is now known as Valet Living. Rounding out the team is Mohammed Syed, the company's co-founder, CTO and former technology partner at AutoWeb.
Spectrio is an Oldsmar-based provider of customer engagement technology and a 2021 Fast 50 honoree.
A St. Petersburg-based cybersecurity company has spent the last three years testing its technology and is now ready to unveil its platform — along with a solid funding announcement.
"We have spent the last three years to come out like a lion," Code-X founder and CEO Darren LaCroix said.
The company offers a software as a service platform, which protects sensitive information across multiple environments concurrently. The platform includes video, email and chat functions that can work simultaneously without the threat of being hacked.
Do you have any events or announcements that you'd like to see on this list?
Let me know at joey@joeydevilla.com!
Join the mailing list!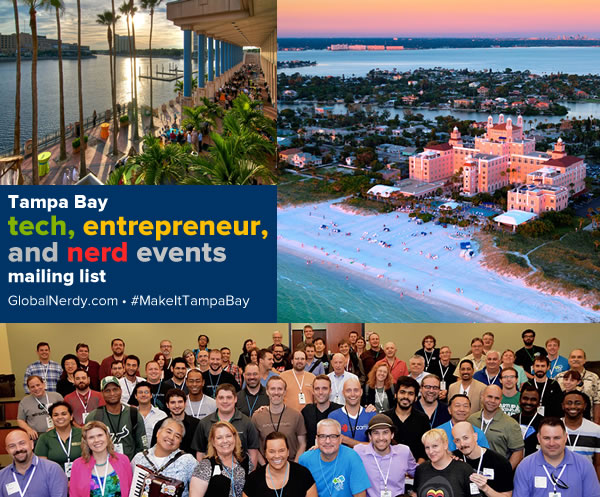 If you'd like to get this list in your email inbox every week, enter your email address below. You'll only be emailed once a week, and the email will contain this list, plus links to any interesting news, upcoming events, and tech articles. Join the Tampa Bay Tech Events list and always be informed of what's coming up in Tampa Bay!