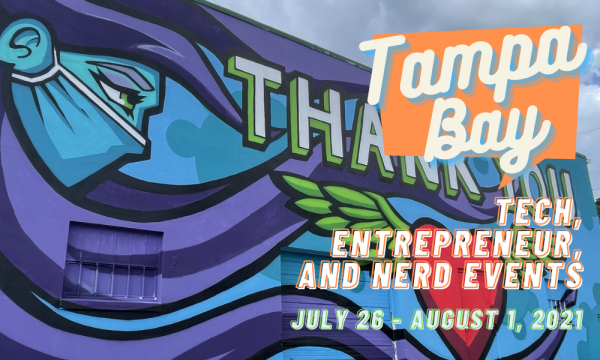 Here's your weekly list of tech, entrepreneur, and nerd events — plus a little area tech news — for Tampa Bay and surrounding areas for the week of Monday, July 26 through Sunday, August 1, 2021.
This is a weekly service from Tampa Bay's tech blog, Global Nerdy! For the past four years, I've been compiling a list of tech, entrepreneur, and nerd events happening in Tampa Bay and surrounding areas. There's a lot going on in our scene here in "The Other Bay Area, on the Other West Coast"!
I'm moving this list to Fridays so that you've got more time to plan for the upcoming week. Let me know if this change works for you (or if it doesn't)!
By "Tampa Bay and surrounding areas", this list covers events that originate or are aimed at the area within 100 miles of the Port of Tampa. At the very least, that includes the cities of Tampa, St. Petersburg, and Clearwater, but as far north as Ocala, as far south as Fort Myers, and includes Orlando and its surrounding cities.
This week's events
Monday, July 26
Tuesday, July 27
Wednesday, July 28
Thursday, July 29
Friday, July 30
Saturday, July 31
Sunday, August 1
Tampa Bay area news roundup
"Hundreds of jobs are up for grabs in the Tampa Bay area, but one of the hottest markets right now is the technology industry. New companies keep moving to Tampa and that adds to the idea of Tampa as a major tech hub."
"Tampa software company ConnectWise has signed a big office lease in downtown Tampa and plans to move its headquarters from Westshore to the urban core."
"San Francisco-based real estate tech firm HomeLight has opened a regional hub in Tampa, marking a critical step in its expansion plans for the state."
Do you have any events or announcements that you'd like to see on this list?
Let me know at joey@joeydevilla.com!
Join the mailing list!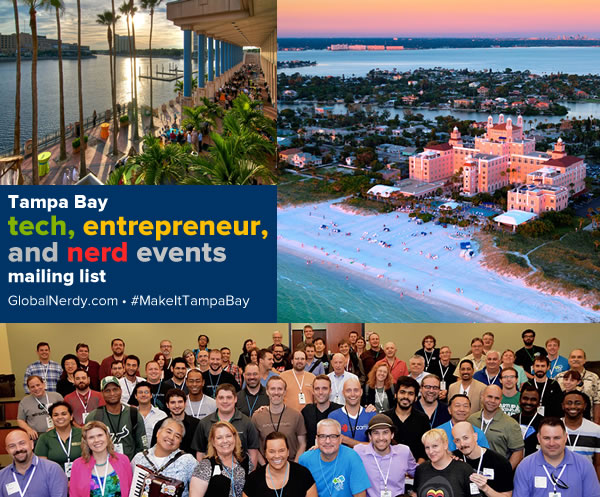 If you'd like to get this list in your email inbox every week, enter your email address below. You'll only be emailed once a week, and the email will contain this list, plus links to any interesting news, upcoming events, and tech articles. Join the Tampa Bay Tech Events list and always be informed of what's coming up in Tampa Bay!