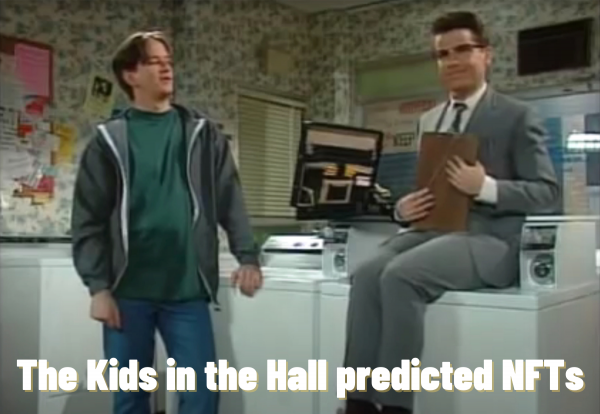 The folks at Digg are right — the Laundromat Business Opportunities skit by Canadian comedy troupe The Kids in the Hall predicted NFTs back in 1994!
Just watch:
The business proposition happens in a laundromat. Here's the part of the skit that pretty much sums up the idea behind NFTs:
Suit (Bruce McCulloch): "Yes!" This is how I think we should proceed — next time you come to do your laundry, you give us a call.

Mark (Mark McKinney): Heyyy! Are you trying to buy my dirty underwear?

Suit: [uncomfortable pause] N-no. I'm not trying to buy your underwear. I'm trying to lease your underwear.

Mark: I knew it!

Suit: No no, sir. It's not what you think.

Mark: There was a guy in here, a couple of weeks ago. He tried to buy my dirty underwear, only he wasn't slick like you.

Suit: That was my ex-partner, sir. W-we're not trying to buy or rent your underwear, we're just trying to lease your underwear. We just want the title of ownership.

Mark: What?

Suit: Yes, you get to retain possession of your underwear. It's totally a paper transaction.

Mark: Huh. Is there uh money involved with this?

Suit: Of course, sir, there's money involved. I'm a business man. There's fifteen dollars [waves a stack of one-dollar bills so it looks like a bundle of money].

Mark: So, you'll give me fifteen dollars for the title of ownership to my underwear, and I get to keep it?

Suit: Of course you do, sir.

Mark: But how do you make money doing that?

Suit: We're idea people. We profit from the idea that we own the deed to your underwear.
And that's NFTs in nutshell, once you strip away the technology veneer and blockchain bafflegab.