The 5th annual Python Web Conf — an online conference for mid-level to advanced Python developers — takes place next week, from Monday, March 13th through Friday, March 17th. Not only is Auth0 by Okta (where I work) one of the sponsors, but I'll be in attendance!
My teammate, Jessica Temporal, will deliver one of the keynotes on Monday, March 13th at 1:00 p.m. EDT (UTC-4, and yes, we'll have just moved to Daylight Saving Time). Her keynote is titled Go With the Flow, and it's about authentication and authorization flows, which happens to be something that we in Okta and Auth0 are pretty good at.
Juan Cruz Martinez and I will also be in attendance and available for chats throughout each conference day and during the Zoom Breakout Rooms sessions at the end of each of days 1 through 4 — Monday, March 13th through Thursday, March 16th.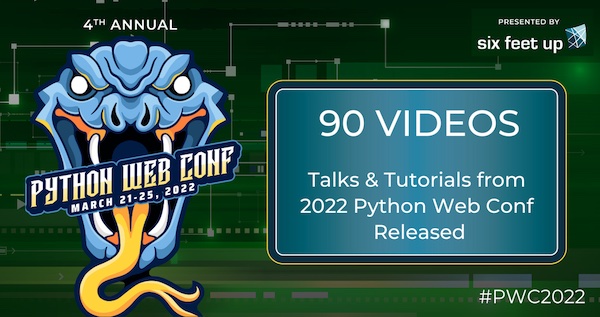 Want to find out more about Python Web Conf 2023? How about checking out these 90 videos from Python Web Conf 2022? You'll find all sorts of topics covered, from the nuts and bolts of the Python programming language, libraries, and tools, but also subjects such as CI/CD, data science, machine learning, better processes, writing documentation, and how to be a better programmer.
As for this year's conference, Python Web Conf 2023 has 5 tracks:
App Dev
Cloud
Culture
PyData
Tutorials
See their schedule for more details.
Tickets are:
US$199 if you'd like to attend live, be able to join tutorial sessions, partake int he online social events and have exclusive access to the recordings for 90 days.
US$100 if you only want post-conference videos available to you for 90 days after the event.
There's also a grant program if you need assistance.
Videos of the sessions will be posted publicaly on YouTube following the 90-day period.