AzureFest, the get-together where developers and aspiring developers learn how to use and deploy applications and databases to Azure, took place at Microsoft Canada headquarters in Mississauga on Saturday.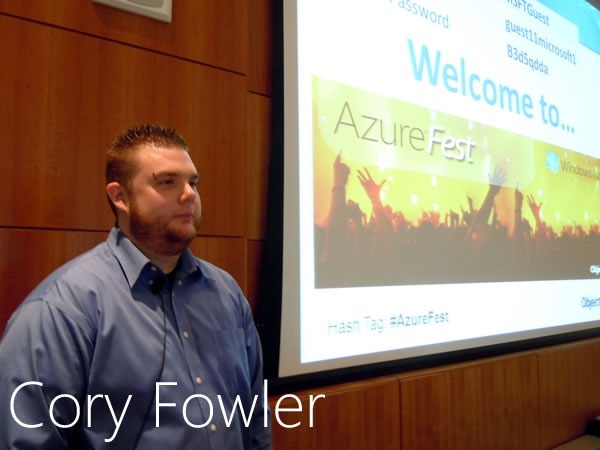 The event was held by our partners ObjectSharp and led by Cory Fowler, an Azure MVP. There was a morning sessions and an afternoon session, and my rough estimation of both events put the attendance at around 130 in total.
Each three-hour session consisted of a quick overview of the Azure platform, the distribution of all the necessary developer tools, signing up for an Azure account and using the prototyping-and-wallet-friendly Introductory Special and deploying that old ASP.NET MVC standby app NerdDinner and its associated database to the cloud. The three-hour format covered more practical ground than the typical one-hour conference session and gave Cory and the ObjectSharpies a chance to make themselves available for one-on-one assistance.
In Case You Missed AzureFest…
If you couldn't make it down to Mississauga to participate in AzureFest, you can still benefit from the AzureFest session. The ObjectSharpies are recording a version of Cory's Azure deployment walkthrough and making it available online. Watch this blog for more details.
Try Azure and Get Some Money for Your User Group!
If you're the member of a Canadian Microsoft User Group, you can help them make a quick $25 which they can use to fund their activities. All you have to do is:
Open an Azure account: either the introductory special offer or using the Azure benefit that comes with your MSDN subscription
Deploy an application – any application, including pre-written ones like NerdDinner – to Azure
Send an email to cdnazure@microsoft.com with the following:

A screenshot of your application running on Azure
The name of the user group to which you'd like to get $25
Feedback about your experience with Azure