Gizmodo has a photo gallery of Herman Miller's follow-up to the popular (and very comfortable) Aeron chair: the Embody chair, which was designed by Aeron co-designer Bill Stumpf. They declare that it's "The Best Chair We've Ever Sat On":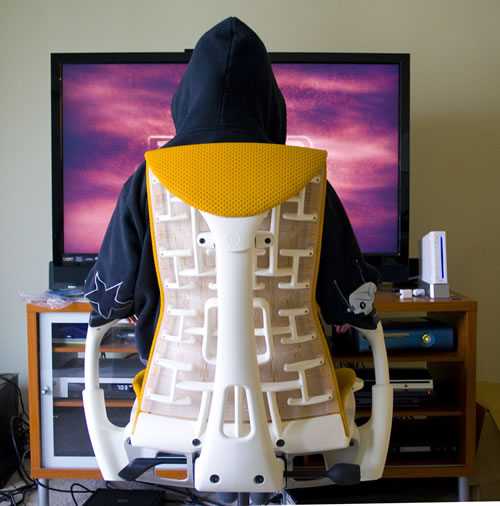 This is supposed to be an extremely comfy chair. Its backrest is described as "a matrix of pixels creates dynamic seat-and-back surfaces that automatically conform to your every movement and distribute your weight evenly." The seat is "a series of plastic bands providing suspension, the second is a sheet of coils for support, the third is a system hexagonal rings that shift with your weight and the final layer is a mesh that allows air circulation to keep the sitter cool."
It's also supposed to be a "green" chair: made from non-toxic and sustainable materials and 42% recycled content. The entire chair is 95% recyclable.
By now, you're probably asking "How much?" The answer: $1600.
Gizmodo's subjective verdict:
…it is the most comfortable chair we've ever sat in. You can adjust the amount of recline, the tension of the recline, your seat depth, your back curvature, your armrest positioning and how high the seat is. But you can do this on many other chairs. What makes this one special—and more comfortable—is that the backrest has individual supports. Think of a Simmons mattresses with individual coils; this adjusts and supports whatever contortions you're putting your spine through in your daily routine of reading Gizmodo.
It looks really nice. It's a crying shame this chair is outside my budget; I think I'm going to opt for the Steelcase Leap chair, which is also quite comfy, and sells for a good $1000 less.
But wow, I'd love to have an Embody…