The development tool company Cenqua have a cute gag ad for a pair programming chair called the "PairOn" — an Aeron built for two: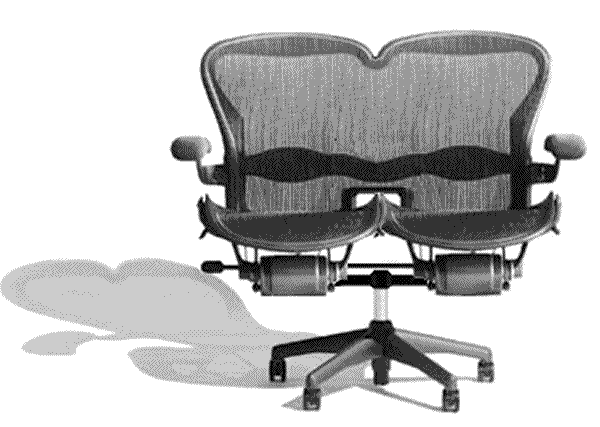 They list the PairOn's "key features" as:
Fully unit-tested in our ego-free ergonomics lab
Essential office furniture for any eXtreme XP Pair (XXPP)
Fully adjustable via individual or pair control
Can be levered to standup-meeting height
40-hour-week alarm buzzer built in
Available in a range of attractive colours
---
Here's a pair programming chair that really exists: it's a set of drawers that doubles as a stool:
These are drawer sets mounted on some very good wheels and topped with well-padded upholstery. If you wanted to pair program with someone, you'd simply pull the drawer unit out from under their desk and sit on it. These things were surprisingly comfortable; I've spent upwards of two hours sitting on one of these with nary a complaint.
Alas, these aren't available in stores. They were custom-built for a startup for whom I briefly worked, whose CEOs was more in love with the idea of running a start-up than actually running a start-up. Their last programmer recently ditched them, and I'm hoping to pick up one of these in their bankruptcy sale.