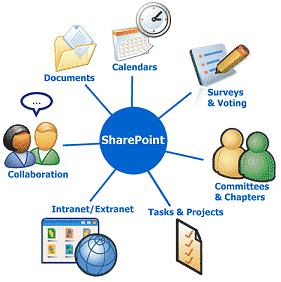 SharePoint has always been a tricky thing to describe, but the opening paragraphs from a recent article in the New York Times, Microsoft's SharePoint Thrives in the Recession, does a pretty decent job:
Hang around at Microsoft's Redmond, Wash., headquarters for five or ten minutes and someone dressed in khaki pants and a blue shirt is bound to tell you about the wonders of SharePoint — one of the company's most successful and increasingly controversial lines of software.

Think of SharePoint as the jack-of-all-trades in the business software realm. Companies use it to create Web sites and then manage content for those sites. It can help workers collaborate on projects and documents. And it has a variety of corporate search and business intelligence tools too.

Microsoft wraps all of this software up into a package and sells the bundle at a reasonable price. In fact, the total cost of the bundle often comes in below what specialist companies would charge for a single application in, say, the business intelligence or corporate search fields.
SharePoint development seems to be a field rich with opportunity. The Ignite Your Career webcasts that Microsoft Canada had earlier this year suggested that SharePoint developers are in demand. Close to home, I know Toronto-based developers working on SharePoint projects for Bank of Montreal. The New York Times article reports that Ferrari, Viacom and Starbucks use it for a number of tasks, including the creation of their public-facing websites. Friends of mine in Ottawa report that the Canadian federal government makes heavy use of it. A recent article in O'Reilly Radar bears the title Want A Job? Learn SharePoint, Says Gary Blatt; it reports that the U.S. federal government is chock full of SharePoint projects and not enough developers.
Like Office, SharePoint has grown from a collection of productivity applications into a full-fledged platform, and where there's a platform on which business and governments run, especially a platform whose purpose is to let people work collaboratively, there's a developer opportunity. Over the next little while, I'm going to post articles about SharePoint and developing for it, using my connections within both The Empire and the developer community (such as my friends at ObjectSharp) to get more information.
If you're planning on attending TechDays 2009, Microsoft Canada's cross-country tour of seven cities in which we talk about getting the most out of the Microsoft Platform and sharpening your skills, you might want to check out the session titled Developing and Consuming Services for SharePoint. Here's it's abstract:
The world gets more service-oriented every day, and with that comes the demand to integrate all kinds of services, including those from SharePoint. This session introduces SharePoint as a developer platform and provides an overview of how you can build and deploy custom services with it. The focus will be on developing ASP.NET and Windows Communication Foundation services for SharePoint as well as building a Silverlight client to consume them.
Watch this space for more articles about SharePoint and SharePoint development!