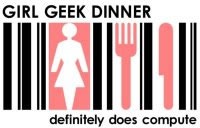 What are Toronto Girl Geek Dinners?
Toronto Girl Geek Dinners are a Toronto-based offshoot of the original London Girl Geek Dinners, whose goal is to make technology accessible and interesting to all age groups and all people, especially women. They're informal gatherings that usually feature a guest speaker who presents a short talk on a technology for a topic along with dinner and socializing. They're a great way to get to know the other women in Toronto who either work in or have an interest in technology. A couple of co-workers from my days at Tucows, Leona Hobbs and Heather Leson, help put these events together.
What's Happening on the 29th?
There's a Toronto Girl Geek Dinner happening on Tuesday, September 29th featuring guest speaker Sarah Prevette, founder of Sprouter (formerly known as RedWire). She'll talk about start-ups, strategy and her own experiences. Here's some info about Sarah from the Toronto Girl Geek Dinners site:
Sarah Prevette has captured attention as a passionate and pioneering web entrepreneur — an exciting voice from inside the online community revolution. Sarah's nontraditional and multi-faceted approach to branding and promotion provides actionable insight to those looking to build communities, truly engage their audiences and leverage the full power of the web. An entrepreneur long immersed in the start-up community, Sarah has robust familiarity with the common pitfalls of early stage start-ups and the tips and tools that foster success.
And here's some info about Sprouter:
Sprouter, in private beta, is an online collaboration tool facilitating knowledge exchange between start-ups and business leaders. Augmenting the online tool with community networking events, the Sprouter team is currently touring North America with Sprout Ups. You can request invite codes to Sprouter.com from their twitter account and sign up Toronto's Sprout Up.
Event Details
The date and time: Tuesday, September 29th, from 6:30 p.m. to 10:00 p.m. (event agenda starts around 7:00)
The location: Fionn MacCools at 181 University (at Adelaide)
The cost: $10.00, a nominal fee that reserves your spot and pays for your first drink
Where to register: You need to register at the dinner's Meetup page.