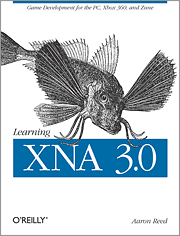 Hey, it looks like I've got some potential reading material for the holidays! O'Reilly's just released their new book, Learning XNA 3.0, an introduction to Microsoft's 2-D and 3-D game development framework for the PC, Xbox 360 and Zune. Here's an excerpt from O'Reilly's description of the book:
Written by an experienced university-level game development instructor, Learning XNA 3.0 walks you through the framework in a clear and understandable step-by-step format. Each chapter offers a self-contained lesson with lots of illustrations and annotated examples to help you master key concepts. Once you finish the book, you'll know how to develop sophisticated games from start to finish.

Learn game development concepts from 2D animation to 3D cameras and effects
Delve into high-level shader language (HLSL) and introductory artificial intelligence concepts
Develop three complete and exciting games using 2D,3D and multiplayer concepts
Develop and deploy games to the Xbox 360 and the Microsoft Zune

While teaching XNA to beginning game developers, author Aaron Reed noticed that several key concepts were difficult for students to grasp. Learning XNA 3.0 was written specifically to address those issues. With this book, you can test your understanding and practice new skills as you go with unique "Test Your Knowledge" exercises and review questions in each chapter.
The book, when purchased from O'Reilly, comes in several formats:
Dead-tree format (that is, an actual paperback book): US$34.99 (currently CAD$44.06) / £24.99 in the UK
Ebook (PDF, EPUB and Kindle-compatible "Mobipocket" format): US$27.99 (currently CAD$35.23)
Dead-tree and ebook: US$45.49 (currently $57.27)
If you're in Canada, you've got a chance to save big. Chapters/Indigo's online price for the paperback book is CAD$23.09, which makes it cheaper than the electronic version. If you're an iRewards member, they'll shave another buck-fifteen off the price to make it CAD$21.94.
Links