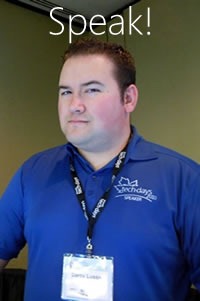 There is no shortage of developer conferences in Canada's "MTV" cities, where MTV stands for Toronto, Montreal and Vancouver. That's not surprising given their population densities, but they're not the only place where developers live.
We do what we can to cover the country, and we also do what we can to help other people make sure that Canadian developers get the sort of face-time, up-close-and-personal, you-had-to-be-there experience that only conferences provide, as nice as doing stuff over the interney is. That's why we're happy to hear that Winnipeg's own D'Arcy Lussier is holding another Prairie Developer Conference, a.k.a. Prairie Dev Con, this summer on Monday, June 13 and Tuesday, June 14 in Regina, Saskatchewan.
Prairie Dev Con will feature multiple tracks with sessions hosted by Canadian developers covering all sorts of topics in different styles, from lectures to panel discussions to chalk talks to hands-on coding sessions. If you're based in the Canadian prairies or always wanted to visit, you'll want to catch this conference!
Better still, you might want to speak at this conference. They're currently looking for sessions in the following general areas:
Microsoft tools and technologies
Java tools and technologies
Ruby tools and technologies
Mobile development
Agile development
Developer fundamentals
The conference will cover two nights' accommodations for selected out-of-town presenters. All presenters will be treated to the speaker dinner which take place on the evening of Monday, June 13. Travel costs are the responsibility of the speaker.
The deadline for speaker submissions is January 14th! If you'd like to speak at Prairie Dev Con, download the speaker submissions form and send it to D'Arcy as soon as you can!
The are also sponsorship opportunities! They have a multi-tiered sponsorship model, as well as track, prize and booth sponsorships.