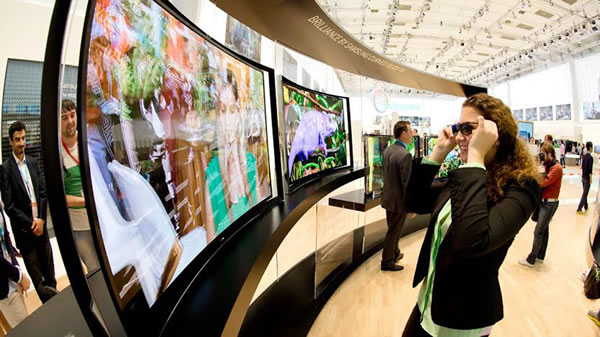 IFA 2014, Europe's largest consumer electronics show, takes place in Berlin starting tomorrow (September 5th) and runs until September 10th. It's a great forum to do international launches for consumer devices that you want to sell during the holidays, and the mobile hardware vendors are promoting their wares there right now. Here's a quick review of some of the new phones that have been presented so far by Samsung, Sony, HTC, and Microsoft Devices.
Samsung Galaxy Note Edge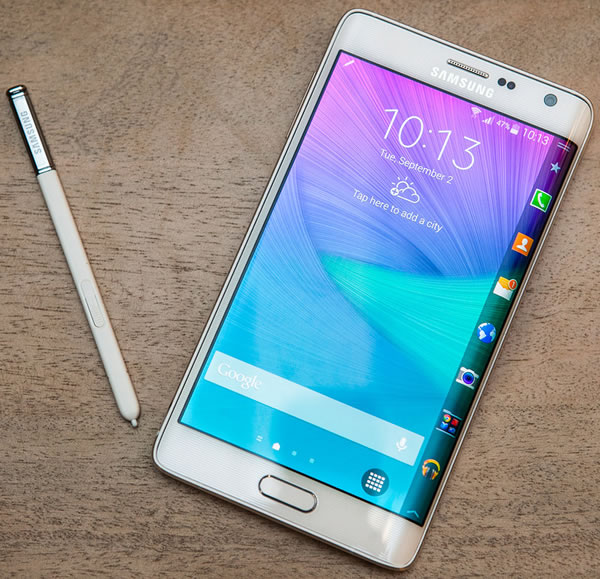 Samsung's Galaxy Note Edge is going to be its next flagship "phablet", a portmanteau of "phone" and tablet, typically used to describe mobile devices with screens between 5″ and 7″ diagonally. It takes its name from the way the screen curves around its right edge like so: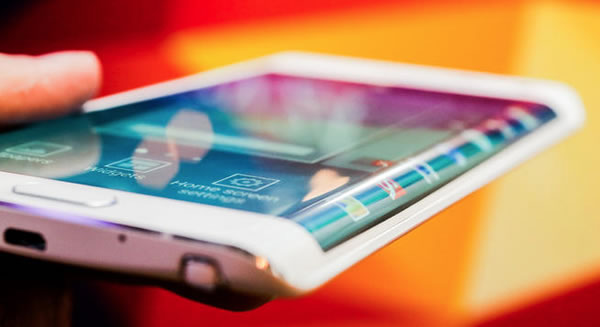 This curved right edge functions as a sort of second screen. By default, it holds the icons for often-used applications, functioning in the same way the taskbar in Windows or the dock in MacOS does. Apps specially written for the Note Edge can take advantage of it, using it as a place for a menu bar or toolbar for often-used functions. It's even possible for an app to only use the edge — a stock or news ticker is one possible application, as is an alarm clock app that lets you see the time without having to take your head off the pillow. It'll be up to developers to come up with creative uses for the edge of the Edge.
It's got some nice specs and features:
A fast processor – either a 2.7GHz quad-core chip or a 1.9GHz octa-core one, depending on the country and carrier where it's purchased
Lots of memory for a mobile device: 3GB RAM
Decent storage: 32GB, plus a micro SD slot that lets you add another 32GB
A large, high-resolution screen – a 5.6 inch quad super HD AMOLED display with 2560-by-1440 resolution
Two high-resolution cameras:

A rear-facing 16 megapixel auto-focus camera with "Smart OIS"
A front-facing 3.7 megapixel camera

A heart rate monitor and "S Health" software that uses it
The "S Pen" for accurate handwriting and drawing
No price or release date has been announced at the time of this writing, but it should come out this fall.
Here's are some "hands-on" reports showing the Edge in action:
The Edge will be available through AT&T, Sprint, T-Mobile, and Verizon this fall.
Samsung Galaxy Note 4
If the Galaxy Note Edge's screen and flagship status don't excite you, or if it's outside your budget, you may want to consider the Galaxy Note 4. Apart from a very slightly larger conventional screen (it's 5.7 inches, a tenth of an inch bigger than the Edge's) it's got the same specs as the Edge.
Sony Xperia Z3, Z3 Compact, and Z3 Compact Tablet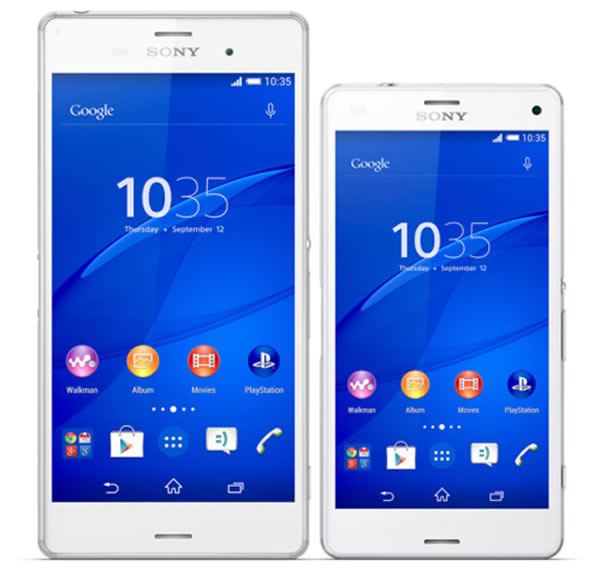 Sony's new flagship smartphone is the Xperia Z3, which takes the Xperia Z2's features — 5.2 inch 1080p display, a 20.7 megapixel camera, and waterproofing — puts them in an aluminum frame, gives the processor a slight speed boost (2.5GHz vs the Z2's 2.3), and adds a wide-angle 25mm lens and extra light sensitivity to the camera.
If you like the Z3's features but want a slightly smaller version, you may be interested in the Xperia Z3 Compact. It has a smaller, lower-resolution screen (4.6 inches, 720p) and skips the aluminum frame, but its other specs, including the processor, 20.7 megapixel camera, and waterproofing, are the same as its bigger sibling's.
If you like the Z3's features but wanted a bigger screen instead of a smaller one, the Z3 Compact Tablet is for you. It's got the same processor, camera, and waterproofing as the Z3, but has an 8-inch screen and a larger battery (which can accommodate, thanks to its larger form factor, and which it needs, thanks to the larger screen).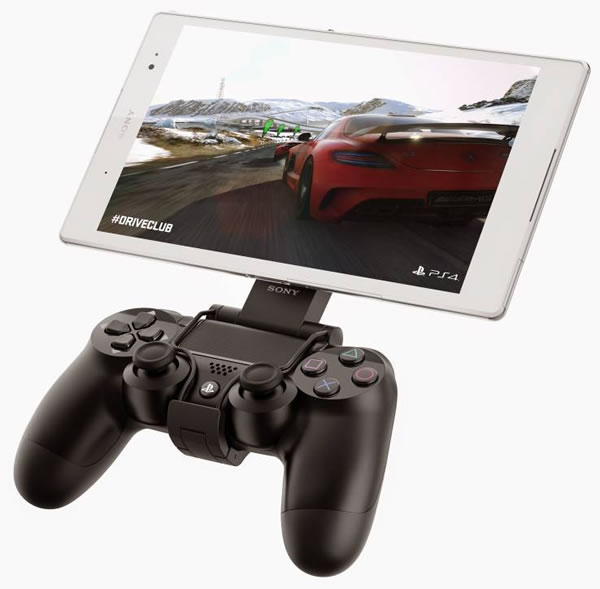 Owners of the PlayStation 4 gaming console will have an additional incentive to choose a member of the Z3 family for their mobile device: if a Z3 is on the same wifi network as the console, they'll be able to stream and play games away from the console. You can even attach them to a Sony game controller!
Here are a couple of "hands-on" reports showing the Z3 family:
T-Mobile has confirmed that they'll carry the Z3 when it launches in the fall.
HTC Desire 820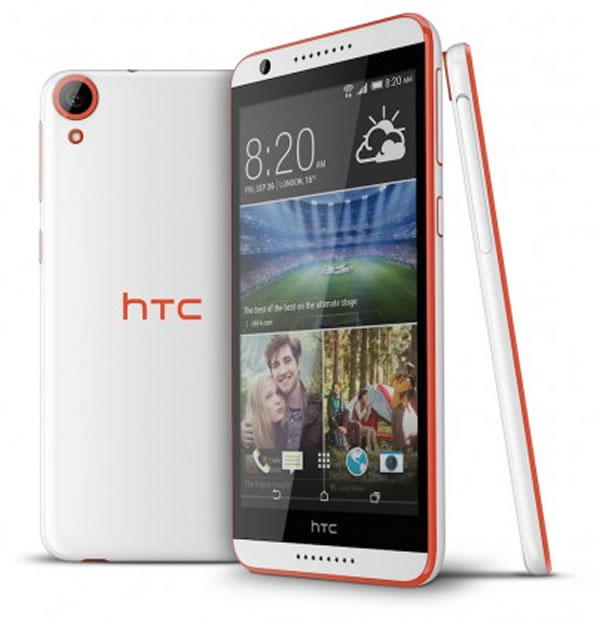 The HTC Desire 820 is one of the first Android devices to ship with a 64-bit processor, which will enable it to run larger, more complex applications and even gain a little speed boost. These advantages won't be realized until there's a version of Android that supports such a chip, but that will happen with the upcoming release of Android L. It also features a 5.5-inch screen with 720p resolution, a rear camera with a 13-megapixel sensor, and for videoconferencing and selfie fans, an 8-megapixel front-facing camera.
Here are some "hands-on" reviews of the Desire 820:
Microsoft (a.k.a. Nokia) Lumia 830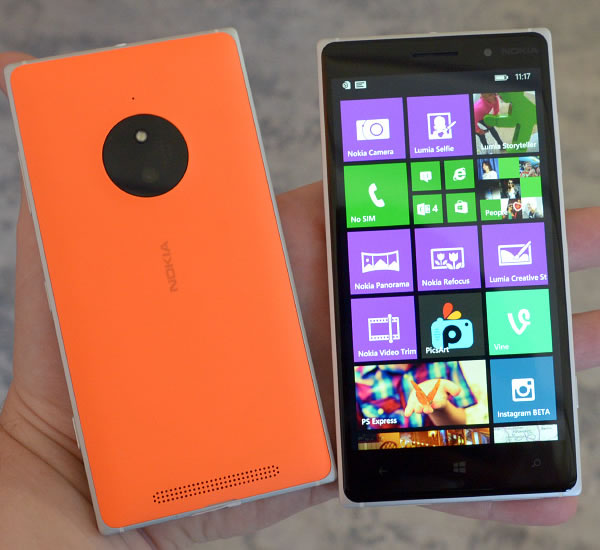 Microsoft Devices — the organization formerly known as Nokia's phone division — have refreshed their mid-level mobile device offerings with the Lumia 830, which they're billing as "the affordable flagship". With a decent processor (a quad-core running at 1.2GHz), 5-inch 720p display protected by Gorilla Glass 3, and a 10-megapixel rear camera with a Zeiss lens, this phone is aimed squarely at the middle of the market.
Here are a couple of "hands-on" reviews of the 830: