Anyone Remember "Mainframe"?
See the guy on the right? That's Mainframe, the computer specialist for the good guys in the animated TV series G.I. Joe. In case you're not familiar with the character, you might want to consult this page on the JoeBattlelines site, which gives you his full bio.
Since this character was created in the 1980s, well before geek chic and internet cool, he didn't get the respect that was afforded to other soldiers in the elite paramilitary force code-named G.I. Joe: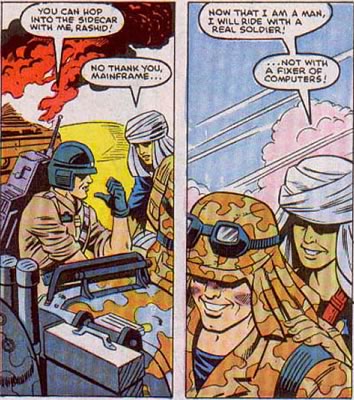 That's okay — Mainframe didn't get into computers for the respect. He got into computers for the chicks.
Mainframe was one of the better characters that the G.I. Joe creative team came up with; far, far better than, say, turning Walter "The Fridge" Perry into a member of the team, complete with signature weapon: a football on a chain. Really.
You Can Be Mainframe!
Well, sort of. If you've got some weapon skills and can code Ajax, Ajaxian points to a US$200K-paying job that might be right for you. Here's a quick run-down:
Title: Web Developer
Salary: $200K plus DOE
Taxes: No Federal taxes taken out for the contractors that accept a 12 month. (6 month contractors will have taxes taken out)
Location: Iraq
Start date: ASAP with 2 weeks training (one in Washington DC and another in Ft. Bening GA)
# of Openings: 1

Summary: A principal Department of Defense agency is looking for programmers, developers or coders to code, support field deployment and maintenance of a new database application which will be used by Army units in Iraq. Scope These are full-time positions (12/7) located at one of the major US Bases in IRAQ. Deployment will be period of 6-12 months. Training on the application software will begin prior to deployment and will take place in Virginia. These positions are available for full time employment or for independent contractors. These positions are available now.