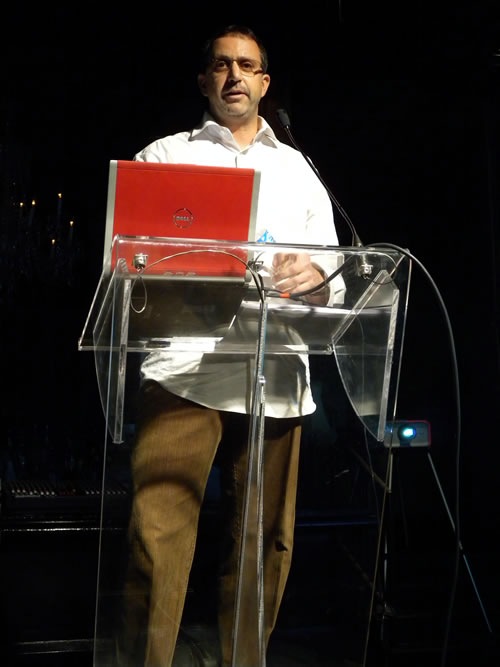 Later on in the afternoon at yesterday's Startup Empire conference, Howard Lindzon took the stage. Howard manages a hedge fund and is the creator of the finance news humour site Wallstrip, which he sold to CBS in May 2007. He also has a very popular financial blog at HowardLindzon.com.
I shot some video asking Howard about his idea of "social leverage"; I'll post it a litter later on. In the meantime, here are my notes from his presentation, Why Now is a Great Time to Start Your Startup.
The Current Situation
Capital, which was so plentiful, is now gone
Reminiscent of the real estate bubble in Phoenix (where I live half the time)
Really important right now to shut out the noise
From 2002 – 2006, it was fun to read Valleywag, TechCrunch and make "me too" products. You can't do that anymore
It's also a bad time to base products on:
Sometimes you have to shelf your ideas for when the times are more suitable for them
The headlines are all doom and gloom these days:

"Financial Ice Age" – BusinessWeek
Startup Depression – Calacanis (I'm not a fan)

You must remember that even during good times, 80 to 90% of businesses fail
The VC model isn't broken
Social Leverage
Financial leverage has come home to roost
We're in a period of deleveraging: there is no bottom, because we don't know what everyone owns
P/E ratios — it's all about expectation, people expect less
You can't get what you got six months ago
Expectations are in "this ratchet-down mode"
I also think that "we're going into a depression" is crazy talk
I'm anti-financial leverage
Social leverage is all-powerful

Nothing you do in social leverage will haunt you
It's a gift from the likes of Facebook, LinkedIn, Twitter
Perhaps you shouldn't start building social leverage with a blog unless your passion is for writing
Start small: work with people
Be mindful of the etiquette of social networking tools
The time to ask people for something is when they're least expecting it
Too Small to Fail
Wall Street was all about "too big to fail"
I'm not seeing signs from the presidents about being small – they seem too concerned with conglomerations and unwilling to bust up things
Bailouts just prolong the process
This is not a headline, it's a state of being
It's a great time to start a web-based business
If you've ever played the board game "Risk", you know:

If you're starting all your armies in Europe, you're screwed
Start off in New Guinea

Consider one of my projects, Stocktwits.com

I like to stay in businesses I know
Started in Twitter — thought it was dumb in the beginning
Guys, this should be about ideas
Wrote post about how there should be a message board for stocks using the reputation model in Twitter
Twitter allows you some sort of reputation — everything you say is there for people to see
Stocktwits — one employee, $30K to start
Twitter offers possibilities: dating, betting — supports an ecosytem

Be careful in whom you trust
Embrace social leverage
Be too small to fail: do the one thing you do very well
Take as little money as you need; things will get better
Ignore the people saying that this is "a new Ice Age" – they're idiots
Fear
Zig while others zag
Take a look at this graph, in which the pink line is the Vicks index and the blue is RRSPs: 

From 2003 – 2005:

Fear level low
Calacanis's company, TechCrunch and other stupid tech businesses wree founded when fear was low

It's always a good time to start a web business

The truth is that it's never a good time to start any business
Successful business can be started anytime
80 – 90% of businesses fail anytime
Why businesses fail
It's important to have structure right from the beginning
Mistakes made at start can come back to haunt you
Sometimes partners fight, so rules and agreements at made at the the start are valuable
The keys: Structure, funding and realistic valuation
When it comes to spreadsheets and plans, keep in mind that it's important to do one thing, do it well and get that customer – this is far more important than the spreadsheets
Make sure you're fishing where the fish are

"Swim near the shark"
Be around certain ecosystems
My Advice
Social leverage: good
Financial leverage: bad
Be an expert at something

For good or bad: mine is finance
"I don't really like the people in my industry"
Applications of my expertise:
Investing: more art than science
Q & A
How do you balance your day?
StockTwits is the only thing I run
Knightsbridge pays me to be on the road
I'm usually up at 5am
Private equity: long hours, long weekends
How do you make use of social leverage?
One example: Fred Wilson
Two months invested in reading his blog
I found out that Fred was a basketball fan and took him to a Phoenix Suns game
We talked business
Fred just happened to be friends with Jim Cramer
Through Fred, I  met everybody else — I counts it as my "real day 1 "
"You make your own luck"
What are you looking for with companies?
I'm more of an angel and a scrapper
I want to to be early
I want to see a finished product