Catch the Interview with Andy Hunt This Thursday!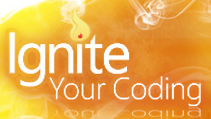 The Ignite Your Coding live webcast series starts this Thursday, March 4th at 2:00 p.m. Eastern (11:00 a.m. Pacific) with me and John Bristowe interviewing Andy "Pragmatic Programmer" Hunt! Join us as we talk with Andy about how he got into software development, how he became a writer and publisher, his book Pragmatic Thinking and Learning and much more. After we're done asking our questions, we'll turn over the interview to you, and you can ask Andy your questions!
If you'd like to catch the live webcast, you'll need Live Meeting, which you can download here. We'll also record the webcast and make it available in MP3 form.
Who Else Will Appear on Ignite Your Coding?
Here's a complete schedule of the Ignite Your Coding webcasts we've set up so far. You can find full descriptions of each of the upcoming shows at the Ignite Your Coding site.
Andy Hunt
Pragmatic Programming, Thinking and Learning


Thursday, March 4, 2:00 p.m. – 3:00 p.m. EST (11:00 a.m. – 12:00 a.m. PST)
Register for this webcast (it's free!)

Glenn Block
Composable Applications FTW

Thursday, March 11, 2:00 p.m. – 3:00 p.m. EST (11:00 a.m. – 12:00 a.m. PST)
Register for this webcast (it's free!)

Jeremy Miller
Essence versus Ceremony

Thursday, March 18, 2:00 p.m. – 3:00 p.m. EST (11:00 a.m. – 12:00 a.m. PST)
Register for this webcast (it's free!)

David Laribee
Agile Techniques for Paying Back Technical Debt

Thursday, March 25, 2:00 p.m. – 3:00 p.m. EST (11:00 a.m. – 12:00 a.m. PST)
Register for this webcast (it's free!)

Richard Campbell
Scalability and Performance

Thursday, April 8, 2:00 p.m. – 3:00 p.m. EST, (11:00 a.m. – 12:00 a.m. PST)
Register for this webcast (it's free!)

Scott Hanselman
State of the .NET Developer Nation

Thursday, April 15, 2:00 p.m. – 3:00 p.m. EST (11:00 a.m. – 12:00 a.m. PST)
Register for this webcast (it's free!)

Jeff Atwood
Horrors, Overflows and Fake Plastic Rock

Thursday, April 22, 2:00 p.m. – 3:00 p.m. EST (11:00 a.m. – 12:00 a.m. PST)
Register for this webcast (it's free!)

Robert C. Martin
A Chat with "Uncle Bob"

Thursday, April 29, 2:00 p.m. – 3:00 p.m. EST (11:00 a.m. – 12:00 a.m. PST)
Register for this webcast (it's free!)