Gratuitious flaming wok shot courtesy of Ricardo Liberato. Yay Creative Commons!
Click the photo to see the original.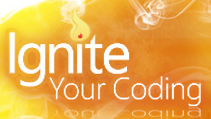 Today's the big day! John Bristowe and I kick off the live Ignite Your Coding webcast this afternoon at 2:00 p.m. Eastern/11:00 a.m. Pacific with an interview with Andy Hunt, co-founder of the Pragmatic Bookshelf, co-author of The Pragmatic Programmer and many other books, and author of Pragmatic Thinking and Learning, which I dubbed my favourite geek book of 2008.
If You Want to Catch the Live Webcast and/or Ask Andy Questions…
You'll need:
If You Want to Listen to a Recording of the Webcast Later…
We'll make it available in MP3 format soon. Watch this site for details!
What's Ignite Your Coding All About, Anyway?
It's all about helping you, the software developer, find ways to stay on top of the technological, economic and social changes that affect you and your work every day. We got our hands on some of the biggest thinkers and doers in our field and asked them if they'd like to chat about the industry, how they got started, where they see the opportunities are, how they deal with change and how to be generally awesome. We got some big names from the Microsoft/.NET world, but we also went farther afield and got some people from beyond that world as well, because a different perspective is often helpful.
Who Else is Going to Appear on Ignite Your Coding?
These distinguished individuals:
For a full description of our upcoming shows, take a look at the Ignite Your Coding site.