Hello from TechDays Edmonton! I'm spending the week in the home of the Oilers, helping run the developer tracks at Microsoft's cross-Canada tech training conference for developers and IT pros. TechDays takes the content from Microsoft's big-ticket conferences – TechEd North America, MIX and PDC – gets local heroes to present that content, and brings it all to a city near you at a price in the low hundreds, not the thousands. For the Canadian developer, it's the conference that delivers the most bang for your buck!
Here's the venue, the Shaw Conference Centre, as seen on Monday, the day before TechDays, which had some pretty gloomy weather. It's cleared up since then:
The conference centre has an unusual shape that takes advantage of its location, a hill on the north side of the North Saskatchewan River:
Here's the view looking straight south:
And here's the view looking southwest:
The interior of the conference centre reminds me of the domed city in Logan's Run:
The first session in the Optimizing the Development Process track was Real-World Patterns for Cloud Computing: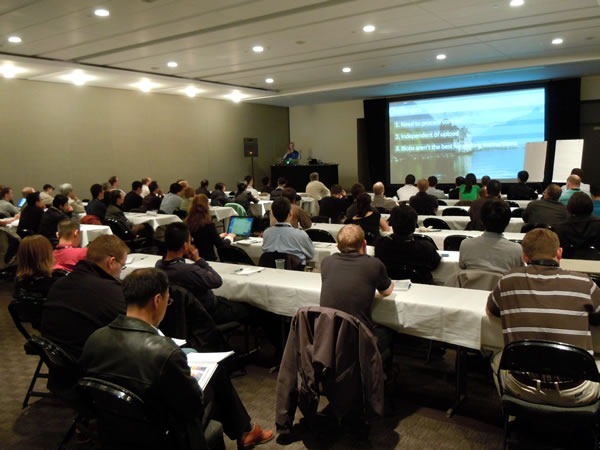 Bruce Johnston of Ideaca did the presentation – here are some pics of him in action:
Meanwhile, in the Collaboration Lounge, Anthony "The Mobile Situation" Bartolo, one of my go-to guys for Windows Phone 7, telcos and Jersey Shore, showed us how Kinect Soccer is truly played:
Notice that footwork:
It may look like a blank stare, but don't let that fool you – he's simply entering a state of motion-sensing soccer zen
"That was too easy!"
He's moving faster than the camera can track!
GOOOOOOOOOOOOOOOOOOOOOAL! Victory dance!