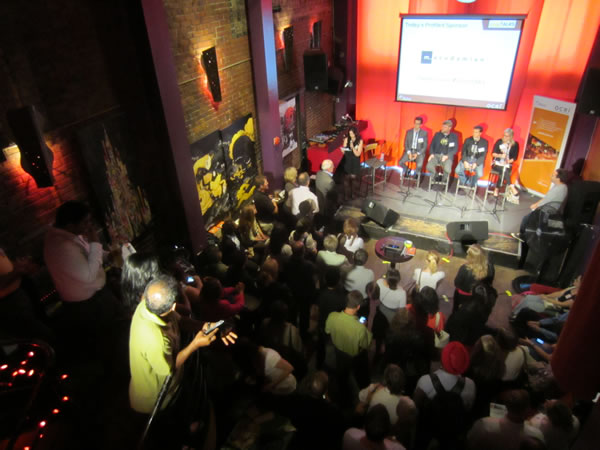 Landing Your Dream Job 2.0
Landing Your Dream Job 2.0 took place late yesterday afternoon at the Mercury Lounge in Ottawa's ByWard Market. This was one of a series of smarTALKS held by OCRI, the Ottawa Centre for Regional Innovation, an organization whose goal is to promote the area's knowledge-based businesses and industries. smarTALKS are sessions meant to "engage entrepreneurs, thought leaders and innovators in forward-thinking conversations about 'what's next.' "
Here's the abstract for Landing Your Dream Job 2.0:
From custom landing pages to personal branding, the traditional strategy for landing your dream job may no longer be effective. Particularly in the startup and technology space, successful candidates are thinking outside the box and creating customized application packages that market to target employers using unique methodologies and tactics. This renaissance of creativity among motivated candidates has raised the bar for entry into many high growth companies. The panel will focus on sharing some of these contemporary tools as well as best practices for landing a job at the tech firm or startup of you choice. In addition, the panel will discuss trends in current hiring practices and will provide an analysis of how things have changed over the past few years.
Harley Finkelstein, Shopify's Chief Platform Officer and Shopify's representative at OCRI, played the role of host and panel moderator. The panelists were:
This panel discussion played to a packed room, with attendees filling the the main level of the lounge, the balcony and even the staircase leading up to the balcony. I'd say that there are a number of people in Ottawa either looking for work or workers!
Notes from the Talk
I took notes during the whole session and have posted them below.
Harley Finkelstein: How have things changed in the way people apply for jobs?
Doug Teztner:
These days, there's so much more information available about places to work and what they're like
Responding to job postings has become like responding to RFPs — you're not just simply applying, you're doing research
People are getting background information on companies through sources like LinkedIn
You can network with people who work at the place you're applying to
Candidates these days have to be more selective — they should be asking themselves these questions:

"Where can I add value?"
"Which jobs line up with my resume and skillset?"
Harley Finkelstein: When Mike Freeman applied for a job at Shopify, he did something clever: he created a Shopify store selling himself. Mike, how'd you come up with the idea, especially since you essentially a web page with a single purpose: to be landing page for Shopify?
Mike Freeman:
I didn't want to take the shotgun approach — I really wanted to work at Shopify
So I did some very heavy research
I'll admit it: I was putting all my eggs in one basket
Looked for connections between him and Shopifolks (found a past connection between him and Harley — they worked at the same org)
It was all about standing out and getting past all the other applicants
Harley Finkelstein: Speaking of standing out, Luc, what different tacks do you think job applicants should take?
Luc Levesque:
It's a balancing act between standing out and annoying the people you're trying to reach
If you're applying for a job at my company, do something I can look at and sink my teeth into
The question that people who are hiring are asking themselves when evaluating candidates is: "Can they perform?"
A great way to stand out is to work on your online profile
Harley Finkelstein: If you're not applying to TravelPod in some standout way, are you in trouble?
Luc Levesque:
The more you can do to "de-risk" the hire, the better
The trusted reference — someone who I trust who is recommending you — is the trump card
Harley Finkelstein: This new trend in finding interesting ways to get hired seems to be a product of the tech and the startup scene. But there's at least one story outside tech where a guy who wanted a job on Madison Avenue set up pages so that when CEOs of adevrtising firms did vanity searches, his resume would appear near the top of the search results. A very creative solution. Brittany, do companies need to encourage this?
Brittany Forsyth:
In today's market, we expect this sort of thing more and more
It's a good answer to the problem of what to do if you're young and don't yet have the connections you need
When I get a job application for Shopify, I look at the cover letter: it's the first indicator of their fit with the company
One of the best ways to land an interview is to provide some proof that you can do the job
If you write code, we can check Github. If you design, we can check your online portfolio
Don't be afraid to go outside the box
Harley Finkelstein: What do you do when you have a position you need to fill?
Doug Teztner:
Another big change in hiring is that the word about jobs gets out in nichier ways now; it's more targeted
We've been doing more job adveritsing via LinkedIn than with the Globe and Mail
Looking for a job is a job: it's a sales job, in fact. You're selling yourself!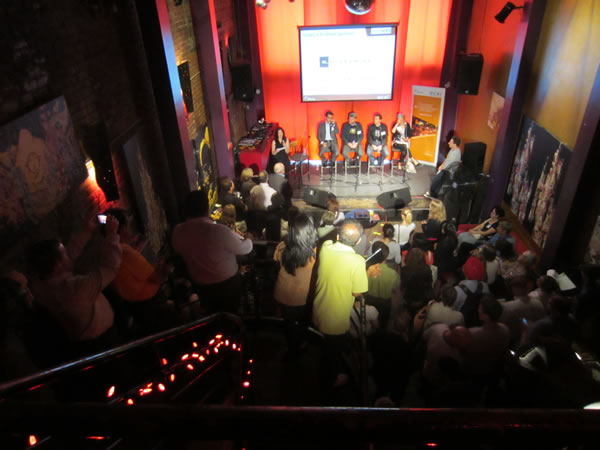 Harley Finkelstein: This new style of job-seeking, with extreme customization and a focus on standing out — is it a Gen-Y specific thing?
Brittany Forsyth:
No, I think it's just that the bar has been raised
I don't think it's specific to any generation
Harley Finkelstein: Is this new-style job-sekking increasing the level of engagement with applicants? Do they know more about the businesses they're applying for?
Luc:
I don't know
It's too hard to tell if it's a fundamental change in the way people look for work, or simply that we're hiring more
It could also be that the tools and resources are better these days.
Harley Finkelstein: When you were applying for work at Shopify, did social media play a role in the Shopify job application?
Mike Freeman:
Yes!
I used LinkedIn to see who worked where and who'd been hired
Facebook can also be a good source of information and connections
If you're applying for work, check out the company's site. You can get a feel for the company's "voice" and see if you're a good fit
You'll feel more comfy going into an interview if you know more about them
Harley Finkelstein: Is the quality of candidates changing?
Doug Teztner: People are better prepared now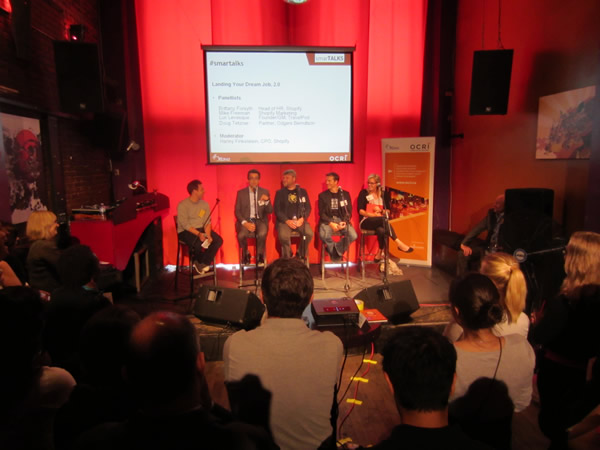 Harley Finkelstein: Why applying or interviewing for a job, how important is know the audience?
Brittany Forsyth:
Research goes hand in hand with knowing your audience
Customize your job application to match
Harley Finkelstein: What is a dream job? Is it a new concept?
Luc Levesque:
I don't think I'm old enough to answer that. Doug? (laughs)
There was one applicant — he's now a rock star in my company – I initially didn't hire him
He found out what events I went to, and whom who I knew, attended those events, befriended those people
Doug Tetzner:
Make a list of people who like you
Luc Levesque:
Relationships: they're the trump card
I've seen who've had horrible interviews, but because of a recommendation from a trusted source, I hired them
The slam dunk: a recommendation from someone whom I trust, whom you reported to and who depended on you
Brittany Forsyth:
We had one application who took our Shopify site marked what was wrong
It can be a double-edged sword, but in his case, it worked
It proved that he knew us and it showed that he did his homework
Doug Tetzner:
Please don't start your cover or intro letter with "To whom it may concern". Who uses "whom" anymore?
Just find out my name! It's not that hard
Have a couple of good questions that you would ask during the interview
"I did 70 hours of prep for the short list!"
At the job interview, don't go for broadcast, but conversation
You should be asking yourself: "Is this a good fit? Am I adding value?" Figure out if it's right for you, they'll figure out if you're right for them
Mike Freeman:
Coming out of school, you were probably given a lot of examples and templates for cover letters and resumes
Break free! Do something different that represents you
In my interview, I ended up talking with [Shopify CEO and co-founder] Tobi [Lutke] and Harley about random things
If you can't find your dream job, find your dream company and work towards that dream job
Harley Finkelstein: Mike's store was a good sign that he was the sort of person we were looking for and that he'd be a good fit
Luc Levesque:
Hiring is really more more about getting the right people on the boat
If you're talking to a founder or CEO and you blow them away, they'll invent a position just for you
In the back of their mind, they're asking themselves "Am I going to have fun working with this person?"
You are building a relationship with the hiring manager
Turned down a rock star on the interview because they couldn't build that relationship
Brittany Forsyth:
Make sure your social media profile represents you well
If your social media software allows it, do a good customization – don't just go with the boilerplate!
And working towards the dream job? I did that: I took an office manager job at start with goal of becoming an HR manager
Doug Tetzner:
Include your interests in your resume! I want to know what kind of person you are
Will someone please do a video resume?
Don't say "If there's anything else keep me in mind" — it says you'll take anything
Instead, do a quick follow up
You want to build some chemistry with the person you'll be working for
If there's no chemistry at the start, it will typically not get better
Luc Levesque:
Don't talk money at the first interview
It's a first date! Don't rush into the sex!
Quotes from the Q&A
Mike Freeman: If you're trying to make a name for yourself and you're just starting out, start a blog on a topic in your field
Luc Levesque: A blog is a great way to do that — it builds credibility
Doug Teztner: A lot of companies have a little list of people they'd like to fire
(In response to a question about an older applicant competing with younger ones) Luc Levesque: In the case where it's you versus a 22 year-old and you're using same tools, you experience could be the edge you need
(On being invited to lunch by people trying to hire you even though you're not looking for  job) Luc Levesque:
You're going to eat anyways, take every lunch!
The connection you make could be valuable later
Oh, and by the way, whoever invites, pays