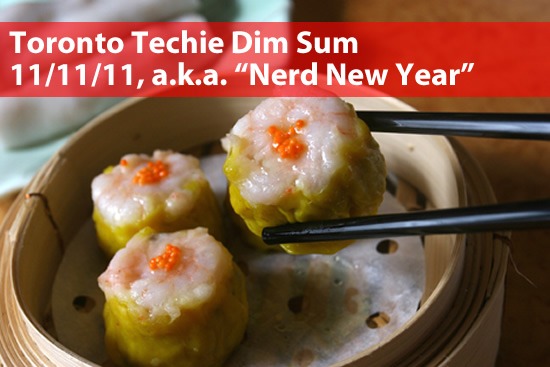 This Friday, November 11, 2011, can also be written down as 11/11/11, which is why a number of people have declared it "Nerd New Year". Seeing as that's the designation for the day, and seeing as we're slightly overdue for another Toronto Techie Dim Sum, I'm calling one for this Friday at noon, Nerd New Year, at our regular place: Sky Dragon at Dragon City Mall (southwest corner of Dundas and Spadina).
In case you missed the one in September, I took some photos and wrote up a quick summary here.
As with the Toronto Techie Dim Sums, this is just a lunch gathering of folks who like tech. There's no agenda, no set topics, no presentations – just good people, good conversation and good (and inexpensive) food. You don't have to be a developer to attend! If you take part in the activity ofwriting software, building web sites or cobbling together technologies, or if you just like hanging out with the very nice people who comprise Toronto's active and vibrant tech scene, please join us for a Nerd New Year lunch!
As always, we all pitch in on the final bill. For the past several dim sum lunches, it's never gone over $12 a person including tip, and it's sometimes been less. You're not going to find a better deal or a better crowd!
It's an open event – invite people, friends and colleagues! If you and your friends are interested in joining us for lunch at Toronto Techie Dim Sum, please RSVP on the Facebook event page. It'll give me an idea of the number of people who'll be attending and will let me make the proper arrangements with the restaurant.
This article also appears in The Adventures of Accordion Guy in the 21st Century.