Following reports of increased activity by Al-Qaeda and affiliated terrorist groups, the Transportation Security Administration (TSA) is requiring security personnel at undisclosed airports in Europe, the Middle East, and Africa to not allow uncharged portable electronics aboard flights. Passengers boarding U.S.-bound aircraft will be required to switch on devices such as laptops, phones, and tablets in order to prove that they are what they appear to be and not disguised explosive devices.
Our recommendation to those of you traveling by air — even you're flying only within the US — is to make sure that any portable electronics you bring with you are ready to operate at a moment's notice when you take them through the security check. This means…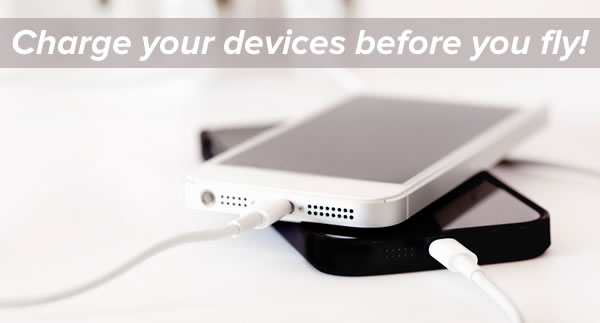 Charging your devices before you go to the airport. Ideally, you should do this overnight before leaving. Even plugging a completely drained smartphone or tablet for a half hour should be sufficient for the airport check; we've observed that most modern smartphones can be brought up to 50% charge in about an hour.
In spite of what some popular reports say, putting your phone or tablet in "Airplane Mode" won't speed up the charging time very much. You may have seen articles that tell you that devices in Airplane Mode (which turns off their cellular and wifi radio units) charge twice as quickly, but test have shown that the speed boost you get is closer to 2%. You might as well keep your device out of Airplane Mode and not miss any important emails or calls.
Get a USB cigarette lighter power adapter. If you're driving (or being driven) to the airport and haven't yet had a chance to charge your mobile device, take advantage of the in-car cigarette lighter (nowadays called the "power socket") and use it to charge your phone or tablet. These USB chargers are cheap and available just about everywhere — even in gas stations and convenience stores. They've saved me a lot of trouble more than once.
If you're a heavy mobile user, you should consider getting an external battery pack. It'll ensure that your device can get through airport security as well as a day of long conversations or heavy mobile computing. This recent Cnet article covers the highest-capacity battery packs available, including the beast pictured above: the RAVPower Element, which gives you 10,400 mAH (milliamp-Hours) of power — "enough juice to charge an iPhone from empty more than five times". For a mere $30 at Amazon, that's a lot of bang for the buck.
Keep your devices charged, and have a safe trip!