Tablet shipments grew, but the big players' shares in the market dropped
Market research firm IDC reports that while the number of shipments of tablets from the third quarter of 2013 to 2014, from 48.3 million units to 53.8 million units, the big players — Apple, Samsung, and ASUS — lost market share. It was the smaller players — Lenovo, RCA, and others — who moved more units than ever, and grew their slices of the market pie.
In their article on the topic, VentureBeat predicts that while the small players are enjoying their moment in the sun, they'll eventually get pushed out:
Yet this can't last forever, as IDC Senior Research Analyst Jitesh Ubrani notes in his statement. "Although the low-cost vendors are moving a lot of volume, the top vendors, like Apple, continue to rake in the dollars. A sub-$100 tablet simply isn't sustainable — Apple knows this — and it's likely the reason they aren't concerned with market share erosion."
Wait — RCA sells tablets?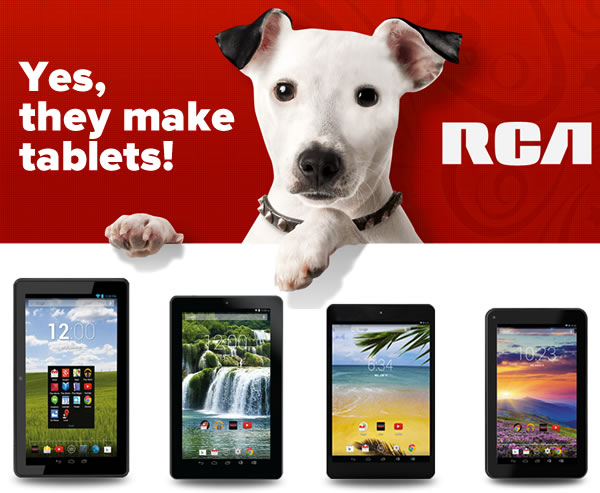 If you read the previous section, you probably asked yourself "RCA sells tablets?" They do — in fact, they make a number of Android tablets, with which they gave the tablet market a surprise boost:
According to IDC's research director for tablets, Jean Philippe Bouchard, RCA's recent boost in sales comes from a one-time deal between RCA and Walmart to put low-cost Android tablets on their shelves. They're expected to sell in these larger volumes straight through the end of the holiday shopping season.
For more details about RCA's tablets, visit their dedicated site, RCATablets.com.
Intel: Late to the tablet party, but still attending
In their article, Intel-Based Tablets Offer Competent Low-Cost Android Alternatives For The Holidays, Forbes looks at the Acer Iconia Tab 8 and Dell Venue 8, two Android tablets powered by Intel-based chips rather than the Qualcomm Snapdragon chipsets you'll find in many popular Android devices. Both are priced just below $200.
The Acer tablet features Intel's Atom Z3735 quad-core processor, which sound better than the Dell's Intel Atom Z3480 dual-core one, but Forbes recommends you consider these numbers, which show that while Acer's quad-core tablet is better at number-crunching, multitasking, and mainstream computing, Dell's dual-core device does better with graphics, gaming, and multimedia thanks to its graphic core. "Better", in this case, depends on what you'll end up using the tablet for.
For a more in-depth look at these tablets, see this writeup on HotHardware.com.