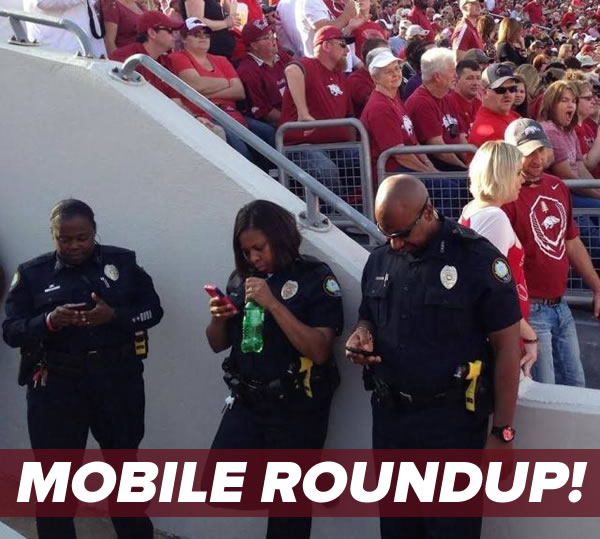 After a brief break from blogging, we're back! Here's more news from the industry that makes the mobile devices we can't get enough of…
How to switch from iOS to Android Lollipop
Google has been naming successive iterations of its Android mobile operating system by going through the alphabet and assigning codenames to each. Starting with Android C or "Cupcake" in April 2009, every Android codename has been some kind of food. The currently released version, Android 4.4, is also known as KitKat, and the upcoming version, Android 5.0, is also Android L, whose codename has recently been revealed to be Lollipop. Lollipop promises to run well on a variety of form factors, from smartphones to tablets to smartwatches to cars to any other place one might see fit to run Android. Using a new approach to user interface called Material Design, it promises to deliver a great user experience no matter what sort of device you're running Android on. Here's The Verge's overview of Material Design:
Material Design has been well received by developers and designers, and it looks like a pleasure to use, but it'll still be an unfamiliar system to those people switching to Android. Google have anticipated this and released a guide for iOS users switching over to Android Lollipop that covers:
Moving photos and music from iOS to Android
Transferring your contacts
Setting up email and messaging
Finding the apps you loved on iOS on Android
How to switch from Android to iOS, and iOS 8.1 on iPhone 6
Not to be outdone by Google, Apple have released their own switching guide which shows Android users how to get the most out of their new iPhone. It covers moving:
Email settings and messages, as well as the data from your contacts and calendars
Photos and videos
Music
Books and PDFs
Documents
Apps
iOS 8.0 had a number of issues when it was first released, and while fixes were provided in iOS 8.0.1 and 8.0.2, a number of issues remained. iOS 8.1 has now been released, and GottaBeMobile.com have tried it out on their iPhone 6 devices and posted a review.
NSA approves Samsung devices running Knox security software for government use
Samsung's Knox is a "container" system that separates Samsung mobile devices into two separate workspaces: a personal one and a protected Knox workspace one, where data is protected through hardware- and software-integrated security measures to provide secure access to corporate resources and protection from unauthorized users. The NSA and Central Security Service have approved the following for government use as long as they're using Knox:
Galaxy S4
Galaxy S5
Galaxy Note 3
Galaxy Note 10.1 (2014 edition)
While these devices meet the NSA's security standards, there's no guarantee that this approval will translate into orders for these devices from the US government.
Tim Cook says that iPad has a bright future in spite of flat sales
iPad sales may have seen their third straight quarter of decline is sales, but Tim Cook still appears to be bulling about the tablet's future. "I know there's a lot of negative commentary in the markets on this, but I have a little different perspective on it," he said during Apple's most recent earnings call.
"Instead of looking at this thing each 90 days, if you back up and look at it, we've sold 237 million in just over four years. That's about twice the number of iPhones that we sold over the first four years of iPhone."

"If you look at the last 12 months of iPad, we sold 68 million, and in fiscal year [2013], we sold 71. So we were down, but we were down 4% on sell-in and the sell-through was a bit better than the -4, because we took down channel inventory some. I view it as a speed bump, not a huge issue. That said, we want to grow. We don't like negative numbers on these things."

"The last market research data is in the June quarter. If you look at our top six revenue countries, in the country that sold the lowest percentage of iPads to people who had never bought an iPad before, that number is 50%. And the range goes from 50% to over 70%. And so when I look at first-time buyer rates in that area, that's not a saturated market."

"What you do see is that people hold onto their iPads longer than they do a phone. And because we've only been in this business four years, we don't really know what the upgrade cycle will be for people. So that's a difficult thing to call."

"We also know that the deeper the apps go in the enterprise, the more it opens up avenues in enterprise. That's a key part of the IBM partnership and what I think customers will get out of that."
They're not Nokia Lumia phones anymore, they're Microsoft Lumia phones
While the company bearing the name Nokia is no longer in the smartphone business, it still goes on as a maker of mapping systems and network infrastructure. The phone part of the business now belongs to Microsoft, and as one might have expected, the Nokia name will be taken off the phone division (which was bought by Microsoft), and the products are expected to be branded Microsoft, Lumia, or — if Microsoft stays true to its predilection for long names, Microsoft Lumia.
BlackBerry moves 200,000 Passports in two days, attracts Lenovo
Based on their reputation as the gold standard in secure mobile communications and a new marketing approach focused specifically on the "30% of the smartphone market who use their phones as a business tool, not an 'entertainment portal', BlackBerry have managed to move 200,000 of their new BlackBerry Passport devices in their 2-day opening sale. The large screen, large battery, and mechanical keyboard are selling points not just to those people who remember BlackBerry during their heyday, but is said to be winning over people who are keeping their iPhone and Android devices for the rest of their life but planning to use the BlackBerry to get work done.
BlackBerry's recent wins are adding fuel to the rumors that Lenovo, who purchased Motorola from Google earlier this year, will try to acquire BlackBerry — possibly even this week.