The market research and analysis firm IDC says that 2015 will be "the first full year of single-digit worldwide smartphone growth". Their prediction is that 2015's smartphone shipments will make up 1.43 billion units, which represents a growth rate of 9.8%.
Some notes takes from their press release:
There are still some areas of the world that will see double-digit growth. While sales growth is slowing in most of Asia/Pacific, Western Europe, and Latin America, the hot spots are in the middle east, Africa, India, and Indonesia.
Cheap phones are expected to drive faster replacement cycles. As they put it in their press release, "the components that comprise a sub-$100 smartphone simply do not have the ability to survive two years."
More higher-end devices will be sold through financing plans. One example they cite is of Apple taking the reins by introducing their own financing: "Apple has taken the lead with its iPhone Upgrade Program, and several other vendors are expected to implement similar plans in the months ahead. These plans could represent the most effective way to get flagship devices into the hands of consumers while speeding up the upgrade cycle through trade-in and incentives."
Here's how the smartphone market share for mobile OS vendors looks like, according to IDC's numbers:
TechCrunch's Alex Wilhelm took note of IDC's prediction for the fate of Windows as a mobile OS:
This is a far cry from their wacky 2011 prediction, in which they said that one in five smartphones would be a Windows Phone in 2015: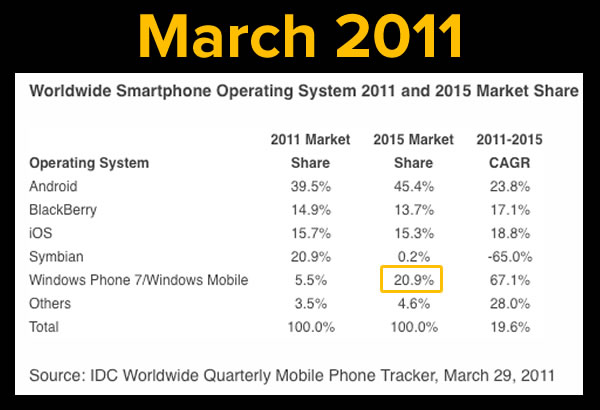 They were so sure that the combination of two industry giants, Microsoft and Nokia, would create a juggernaut that would bring the Windows Phone OS to the number two position, ahead of iOS and BlackBerry.
To quote their press release:
"The new alliance brings together Nokia's hardware capabilities and Windows Phone's differentiated platform. We expect the first devices to launch in 2012. By 2015, IDC expects Windows Phone to be number 2 operating system worldwide behind Android."
Gartner's 2011 predictions for the 2015 smartphone market weren't all that different:
But the prize for the most comically-wrong prediction about the 2015 smartphone market has to go to Pyramid Research, who predicted that Windows Phone would take over the number one spot:
As the late great Yogi Berra said: "It's tough to make predictions, especially about the future".