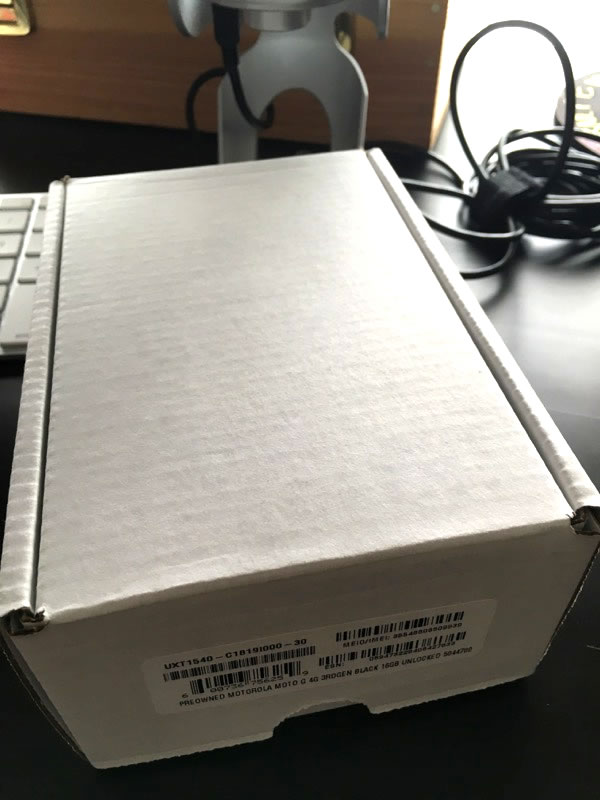 Inside this terribly unsexy box is the best Android bang for the buck. Whether you're dipping your toe into the wild and wooly world of Android development like I am, or just need a decent smartphone for under $200, you should consider the 3rd-generation Moto G.
The 3rd-generation Moto G, which was released in July 2015, comes in two different models:
If you don't mind refurbished electronics, you can get one at a really low price online. I got the 2GB RAM/16GB flash storage model listed on Best Buy's site at US$120; with free shipping and taxes, the total came to US$130. It arrived yesterday in a plain white box along with the kind of USB charger whose cable doesn't detach, and nothing else…
…but at this low price, and since I already have a stash of USB A-to-USB micro cables, I'm not going to complain.
Engadget summed up the 3rd-gen Moto G very nicely in their August 2015 review, titled Motorola wins the 'best cheap phone' crown, again. Although it's priced like a starter phone, its Snapdragon 410 chipset help it to perform like a mid-range phone, and its display is surprisingly bright for a phone at this price point. The camera uses the same 13 megapixel sensor as the Nexus 6, which means nice photos in good light, grainy photos in low light, but a clear improvement over the previous year's version. Battery life is very good; it played continuously looping video with the screen at 50% brightness for 10 hours and 40 minutes in Engadget's test. It's also waterproof for up to 30 minutes in depths of a meter (39 inches) or less:
As for software, my 3rd-generation Moto G came with Android 5.1.1 (Lollipop) installed, but a short over-the-air update later, it was running 6.0 (Marshmallow). Motorola have always been quite quick with the OS updates, unlike many other more popular, pricier vendors.
Motorola do a very good job of not covering up Android with crapware — it's as close to plain old Android as I've seen on any phone. The very few software add-ons that Moto added were subtle and nice; my favorite's the hand-gesture detection, which switches on the camera app if you twist the phone twice, and turns on the flashlight if you make a "karate chop" gesture while holding the phone.
If you're a reader of this blog, there's a good chance that you're a developer with an interest in mobile platforms. If you're looking for an Android device for development and testing, and especially if you're looking to target middle-of-the-road devices (which are high-end devices in emerging markets), the 3rd-gen Moto G offers the biggest bang for the buck, especially if you opt for a deal on a refurbished model.
I'm going to be doing a lot of development on my Moto G in the upcoming months; watch this space for some of the results!