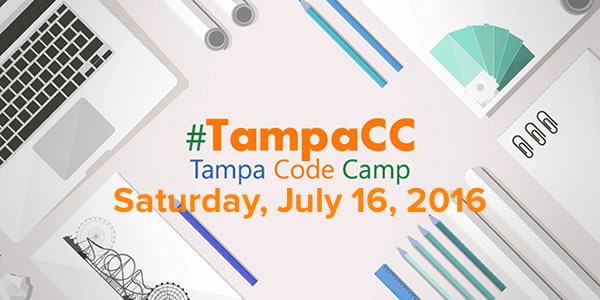 Tampa Code Camp takes place next Saturday, July 16th at the offices of KForce, located just on the edge of Ybor City. It's an annual, free-admission, community-run learning event for programmers of all stripes, from beginner to expert, from people who code for a living to programming students to hobbyists.
Every year, Tampa Code Camp features speakers presenting developer topics — largely focused on Microsoft technologies, but there's also a "Miscellaneous and Open Source" track — and the chance for local developers to meet and hang out with their peers. It's an all day event, starting at 8:00 a.m. and concluding at 5:00 p.m., followed by an after-party at a nearby restaurant. They typically provide free donuts in the morning, and free subs and drinks for lunch, thanks to the support of sponsors, and the work that organizers Greg and Kate Leonardo put into it.
I've attended Tampa Code Camp for the past couple of years, and this year, I'll be giving the opening presentation in the "Miscellaneous and Open Source"  track:
My presentation, titled Just enough React to get you into trouble, will be a quick introduction to React, Facebook's library for building user interfaces. I'll explain what React is, why you might want to use it in a web project, and how to set up your computer for React development. I'll follow up by walking the audience through a very simple single-page app written in React, giving them enough of an understanding to start their own React explorations.
Just enough React to get you into trouble will take place during Tampa Code Camp's first time slot — 9:00 am. to 9:50 a.m. — in the "Miscellaneous and Open Source" track. I promise that it will be packed with useful information and my trademarked entertaining presentation style.
If you'd like to attend my presentation or any other the other ones at Tampa Code Camp, please register! Once again, it won't cost you a thing to attend; registration helps the organizers plan for space, food, and other logistics matters. Be sure to check out the agenda, sessions, and speakers lists.
The details