It's Monday, July 24th, 2017, which means that's it's Day One at the new job at Sourcetoad, a Tampa-based software development shop that makes all sort of interesting software products, including:
I will be managing the above products, as my role is Lead Product Manager, which means that I may need to add these T-shirts to my wardrobe: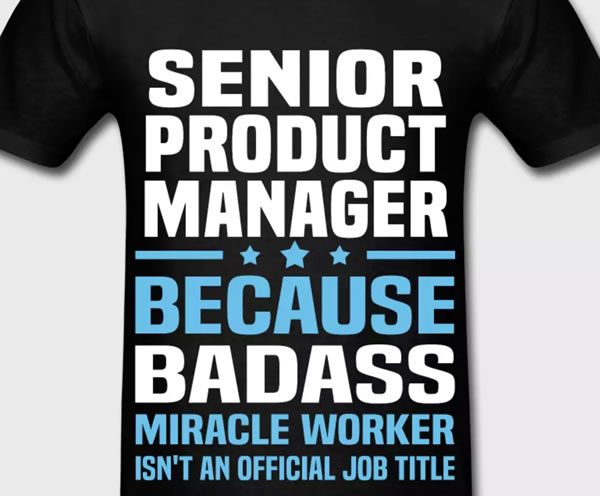 All kidding aside, you might be asking "Really, what does a product manager do?"
My favorite definition comes from Marty Cagan's book, Inspired: How to Create Products Customers Love:
In Inspired, Cagan cleverly summarizes the product manager's mission as:
to discover a product that is valuable, usable and feasible.
The Accidental Product Manager breaks down product management into these 5 steps:
Identify A Need: Your product will never be a success if it doesn't solve a problem for a customer. Before you spend any time creating product, first take the time to find a customer need that they'd be willing to spend money to solve.
Identify Customers: The world is filled with lots of customer problems that nobody would actually pay to solve. The dot.com implosion showed that it was easy to create a product that solved a problem that nobody really needed to have solved (remember Pets.com?)
Create Product: Product managers can get lost in this part of the program. The product that gets created needs to solve the problem better than anyone else for the customers who are willing to pay for it. That's it.
Sell Product: Having a product is a good start, but it's not going to do anyone any good unless you can make your customers aware of it. Once they know that it exists, you are going to have to work with the rest of your company to find ways to get your product into your customer's hands.
Support Product: There is an old phrase that says that its 5x easier to sell to an existing customer than to a new one. The only way that that is going to be true is if your existing customer is happy with you. Supporting the product once it's been bought is not nearly as glamorous as a new sale, but it can be the key to future sales.
You've probably seen this Venn diagram in a number of presentations about product management:
Martin Eriksson summed up the three sets that make up the Venn diagram quite nicely:
Business – Product Management is above all else a business function, focused on maximising business value from a product. Product Managers should be obsessed with optimising a product to achieve the business goals while maximising return on investment. Sorry, this does mean that you are a suit – but you don't have to wear one.
Technology – There's no point defining what to build if you don't know how it will get built. This doesn't mean a Product Manager needs to be able to sit down and code but understanding the technology stack and most importantly understanding the level of effort involved is crucial to making the right decisions. This is even more important in an Agile world where Product Managers spend more time day to day with the development team than with anyone else inside the business.
User Experience – Last but not least the Product Manager is the voice of the user inside the business and must be passionate about the user experience. Again this doesn't mean being a pixel pusher but you do need to be out there testing the product, talking to users and getting that feedback first hand – especially in a start-up.
Mine is a critical position within the company, and you may wonder if it scares me. Like the management who hired me, I have great confidence in my abilities, but as Professor Charles Xavier once astutely said before one of the greatest battles in his life: Only a fool is without fear.
I'm looking forward to Day One at Sourcetoad and a new adventure!
Other articles I've written about the new job