We're in the top 20!
Why did Tampa Bay make the top 20 in CompTIA's 2019 list of U.S. metros for technology jobs? One of the biggest reasons is the Tampa Bay tech community, who not only do their day jobs, but make outstanding contributions to the tech scene. They get involved in events where they share their knowledge, make connections and friends, and gather together to build strong tech, entrepreneur, and nerd communities. That's why I do this every week: I put together a list of tech, entrepreneur, and nerd events to make sure that they can be found and you can attend them!
This weekly list is posted as a voluntary service to the Tampa tech community. With the notable exceptions of Tampa iOS Meetup and Coders, Creatives and Craft Beer — both of which I run — most of this information comes from Meetup.com, EventBrite, and other local event announcement sites. I can't guarantee the accuracy of the dates and times listed here; if you want to be absolutely sure that the event you're interested in is actually taking place, please contact the organizers!
Find out more about Tampa Bay's status in the top 20 tech metros

You can find out more about Tampa Bay's being one of the top 20 tech metros in the following places:
Over the next couple of weeks, I'll be writing about ideas to help ensure that Tampa Bay stays in the top 20 on Global Nerdy. Be sure to check them out!
Monday, December 9
Tuesday, December 10
Wednesday, December 11
On Wednesday, Computer Coach and High Tech Connect will host their holiday party at Brick House (where Dale Mabry meets the 275) from 5:30 to 8:30 p.m.. Join them for one of the big tech community get-togethers, and help them out with their Toys for Tots campaign! They're taking donations of new, unwrapped toys.
Thursday, December 12
Friday, December 13
Saturday, December 14
Sunday, December 15
Do you have an upcoming event that you'd like to see on this list?
If you know of an upcoming event that you think should appear on this list, please let me know!
Join the mailing list!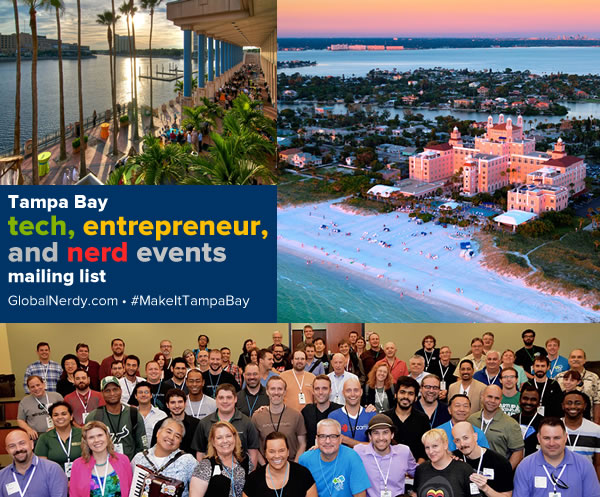 If you'd like to get this list in your email inbox every week, enter your email address below. You'll only be emailed once a week, and the email will contain this list, plus links to any interesting news, upcoming events, and tech articles.
Join the Tampa Bay Tech Events list and always be informed of what's coming up in Tampa Bay!