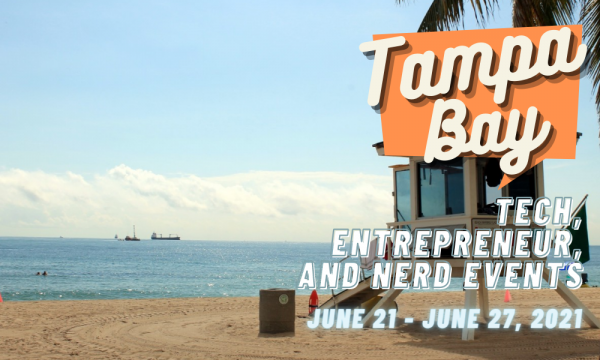 Here's your list of tech, entrepreneur, and nerd events — plus a little area tech news — for Tampa Bay and surrounding areas for the week of Monday, June 21 through Sunday, June 27, 2021.
This is a weekly service from Tampa Bay's tech blog, Global Nerdy! For the past four years, I've been compiling a list of tech, entrepreneur, and nerd events happening in Tampa Bay and surrounding areas. There's a lot going on in our scene here in "The Other Bay Area, on the Other West Coast"!
By "Tampa Bay and surrounding areas", this list covers events that originate or are aimed at the area within 100 miles of the Port of Tampa. At the very least, that includes the cities of Tampa, St. Petersburg, and Clearwater, but as far north as Ocala, as far south as Fort Myers, and includes Orlando and its surrounding cities.
This week's ONLINE and OUTDOOR events
I'm holding off on listing indoor in-person events for a little longer. In the meantime, enjoy this list of events that are either online or in-person and outdoors!
Monday, June 21
Tuesday, June 22
Wednesday, June 23
Thursday, June 24
Friday, June 25
Saturday, June 26
Sunday, June 27
Tampa Bay area news
Tampa Bay Tech's "Tech Tracks 2021" virtual event this Thursday
Tampa Bay Tech is holding Tech Tracks 2021, its big Q2 virtual event on Thursday afternoon. It will feature tech talks provided by Tampa Bay area technologists, for Tampa Bay area technologists. Tickets are $25.00, and are cheaper for Tampa Bay Tech members. Here's the agenda: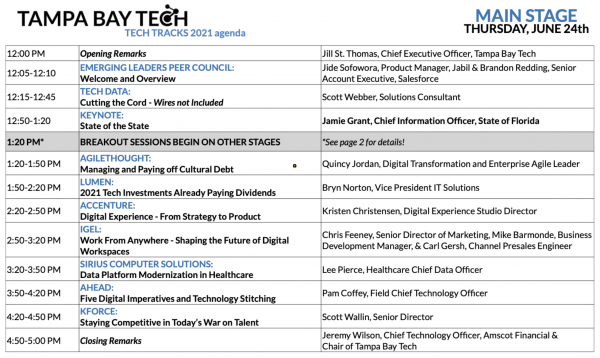 Video: Tampa Bay's biggest strengths, weakness and opportunities, according to Silicon Valley executives
In this video, Tampa Bay Business Journal's Lauren Coffey chats with three tech execs on why they moved to Tampa:
Tampa Bay Wave welcomes 15 startups to latest accelerator cohort
From "several hundred" applications, Tampa Bay Wave selected fifteen tech startups from the U.S. and beyond to be admitted to their 2021 TechDiversity Accelerator. Find out more about them here.
7 questions to ask before relocating your startup to Florida
If you've got a TechCrunch "Extra Crunch" subscription, you can read the entirely of this article by Embarc Collective's Lakshmi Shenoy. I don't have one, so could somebody please tell me what the final 4 questions are?
Do you have any events or announcements that you'd like to see on this list?
Let me know at joey@joeydevilla.com!
Join the mailing list!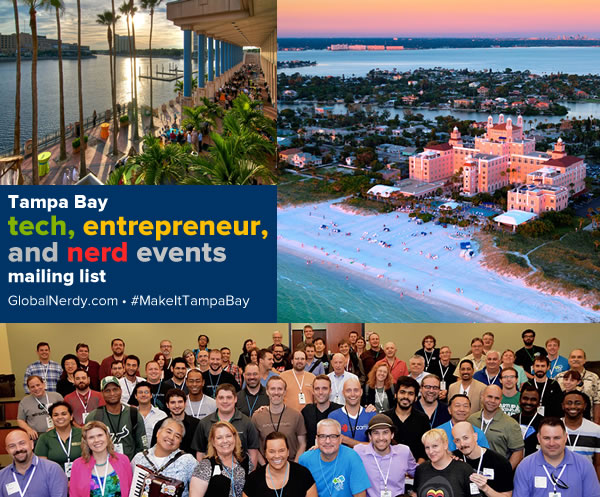 If you'd like to get this list in your email inbox every week, enter your email address below. You'll only be emailed once a week, and the email will contain this list, plus links to any interesting news, upcoming events, and tech articles. Join the Tampa Bay Tech Events list and always be informed of what's coming up in Tampa Bay!