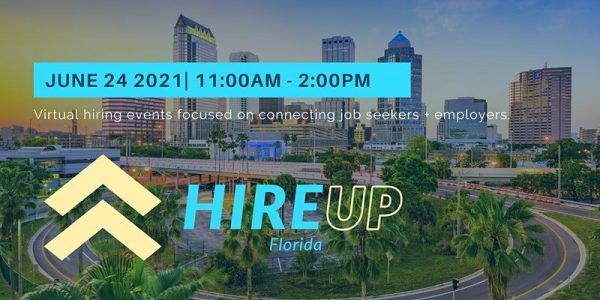 Looking for work in the Tampa Bay area? Check out tomorrow's virtual event, HireUp Florida Tampa Bay, which happens tomorrow (Thursday, June 24th) from 11:00 a.m. through to 2:00 p.m.!
Here's their write-up:
This virtual event is powered by HireUP Florida, designed to introduce hiring companies to job seekers as well as provide an opportunity for job seekers to network with each other. In this unique platform, job seekers will have the opportunity to introduce themselves, ask questions, and connect with recruiters for local Tampa Bay staffing firms.

Tickets are first-come-first-served with a wait-list. Register early to secure your spot!

There will be a mix + mingle prior to this event for job seekers to provide event overview details and allow time for networking in a casual environment.
A number of hiring companies will be participating:
Once again, "tickets" to this event are available on a first-come, first-served basis, and there will be a waiting list if the event fills up. Register now and land a job!