Here's your weekly list of tech, entrepreneur, and nerd events — plus a little area tech news — for Tampa Bay and surrounding areas for the week of Monday, June 28 through Sunday, July 4, 2021.
This is a weekly service from Tampa Bay's tech blog, Global Nerdy! For the past four years, I've been compiling a list of tech, entrepreneur, and nerd events happening in Tampa Bay and surrounding areas. There's a lot going on in our scene here in "The Other Bay Area, on the Other West Coast"!
By "Tampa Bay and surrounding areas", this list covers events that originate or are aimed at the area within 100 miles of the Port of Tampa. At the very least, that includes the cities of Tampa, St. Petersburg, and Clearwater, but as far north as Ocala, as far south as Fort Myers, and includes Orlando and its surrounding cities.
This week's events
Don't forget that this coming weekend is the holiday weekend, with the 4th of July falling on the Sunday. This the one of the slowest weeks of the year, when many people take their holidays, so if your event is scheduled on or near the 4th, make sure you double-check with its organizers to be sure that it's actually taking place!
Monday, June 28
Tuesday, June 29
Wednesday, June 30
Thursday, July 1
Friday, July 2
Saturday, July 3
Sunday, July 4
Lots of Tampa Bay area news
Who says you can't come home again? Tech entrepreneur Byron Crowell comes back to Tampa to rebuild company he found two decades ago, and to spur the next generation of local innovators.
Cybersecurity firm brings on new marketing chief — Meet KnowBe4's new CMO, Michael Williams.
Company says Tampa Bay could be next major technology hub — Tampa Bay could be the next major tech hub, according to Canadian company CodeBoxx, a tech education company relocating its headquarters to St. Petersburg.
Equity firms acquire pair of homegrown Sarasota tech companies — In separate deals, private equity and asset management firms have acquired a pair of Sarasota homegrown tech companies that specialize in online affiliate and pay-for-performance, or clicks, marketing.
Boston-based tech company bets big on Tampa with upcoming hiring spree — Drift, which expanded to Tampa in late 2019 plans to hire more people in the coming months.
Local university among top in the world in developing patents — Tampa's very own University of South Florida secured nearly 130 patents last year, making it one of the top in the country and world.
Tampa Bay, Orlando partnership hits new evolution to boost investing across the state — The organizations in the partnership will host a "Shark Tank" style event in an effort to increase awareness on investing.
Tech accelerator showcases healthcare disruptors — The Florida-Israel Business Accelerator (FIBA)'s latest Connection to Innovation event welcomed a pair of healthcare startup founders as well as a familiar face in Rachel Feinman, the organization's former executive director who earlier this year joined Tampa General Hospital (TGH) as vice president of innovation.
Do you have any events or announcements that you'd like to see on this list?
Let me know at joey@joeydevilla.com!
Join the mailing list!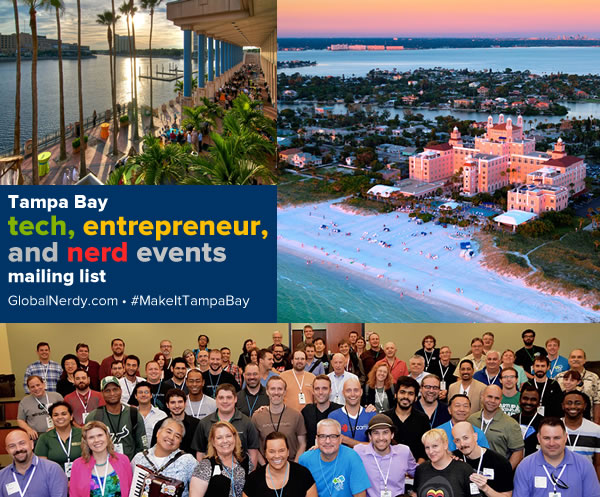 If you'd like to get this list in your email inbox every week, enter your email address below. You'll only be emailed once a week, and the email will contain this list, plus links to any interesting news, upcoming events, and tech articles. Join the Tampa Bay Tech Events list and always be informed of what's coming up in Tampa Bay!