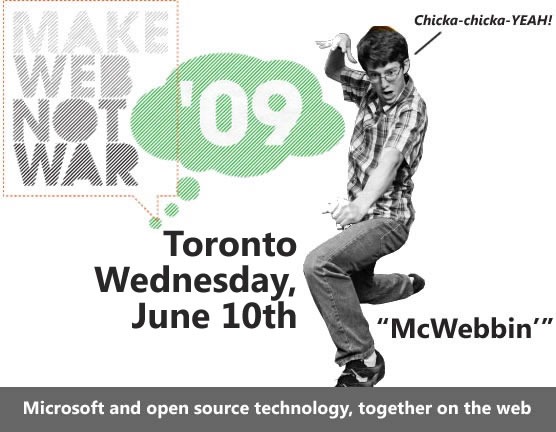 About Make Web Not War
If you're interested in web design and development, you should attend Wednesday's Make Web Not War conference. It's being presented by Microsoft Canada and is about the how open source tools like PHP and Microsoft technologies like IIS and SQL Server 2008 can be used together to make great web sites and applications. No matter how much (or how little) Microsoft technology you use in your web development, there's a lot to see at Make Web Not War!
Who's Speaking?
We've got a number of speakers, each talking about some different aspect of the interoperability between Microsoft and open source technologies, as well as their experiences and lessons learned working in the web industry: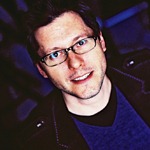 David Crow, Microsoft
David Crow is an emerging technology and start-up advocate. At Microsoft Canada, he is responsible for helping Canadian start-ups through programs like BizSpark (details at microsoft.com/bizspark). David helps companies understand emerging technology and design practices for creating compelling digital experiences. David focuses on helping companies to extend their customers' reach with next generation technology for the desktop, digital devices, standards based applications for the Web, and rich media applications. He has been named Toronto's Best Web and Tech Evangelist for his efforts in DemoCamp, BarCampToronto, Founders & Funders and StartupEmpire.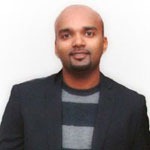 Mano Kulasingam, Digiflare
Mano Kulasingam is a founding partner and principal interactive designer /developer with Digiflare, focusing on presentation layer technologies like Microsoft Silverlight, Windows Presentation Foundation and SharePoint 2007. He also has several years of experience developing B2B and B2C eCommerce and Content Management Web applications using ASP.NET (2.0 and 3.5) and Visual C#. His design skills include working with the latest professional design tools including Microsoft Expression Studio 2, which has earned him a Microsoft Expression MVP nod. He is a co-founder and host of the Toronto Silverlight User Group.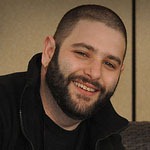 Brendan Sera-Shriar, PHUG.ca
Brendan is a prominent member of FlashinTO, PHUG – Open Source Culture, has taught web design at Long Island University Brooklyn campus, and has been a professor at Seneca College in the School of Communication Arts for over 7 years. Brendan currently owns and operates BackSpaceStudios, a web company specializing in WordPress development, social media applications. He is also the founder of PHUG, an open source community for designers and developers with currently over 4000 members, faculty at Seneca College, and organizer for WordCamp Toronto 2009. Brendan has contributed to many open source projects including papervision3D, red5, Firefox, WordPress, and Drupal, just to name a few.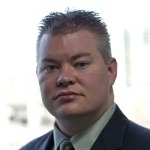 Stephen Nichols, Softcom
Under the brand myhosting.com we offer Shared and Virtual Web Hosting as well as Exchange 2007 and WSS hosting to customers around the world.
Stephen is Vice President of Sales at Softcom, a Gold certified Microsoft Partner based in Toronto and specializing in transactional hosting with a focus on the SMB market. His key role is to oversee the customer life cycle experience and drive new sales opportunities through the direct, affiliate and partner channels.
Yann Larivee, PHP Quebec
Yann Larrivée has been developing web applications for over 7 years and is currently offering PHP consulting services. In the past he has worked in many position from, project manager for a Linux consulting company to web architect for a well know company in the gaming industry. He also founded the PHP Quebec community in 2003 and organizes an international PHP conferences and an IT JobFair.
Get Windows Server 2008 R2 for Free!
Windows Server 2008 R2 is a great server operating system, and this is your chance to take it out for a spin! Bring a machine to the Make Web Not War Installfest – it could be a server, desktop or even a laptop – and we'll walk you through the process of installing your own free copy (which is good for a year). Space is limited – we've only got room for 100 people, so sign up soon!
See the Utltimate FTW! Throwdown
The Ultimate FTW! Throwdown was a challenge pitting student developers against professionals to develop a new PHP-on-Windows app or port an existing PHP-on-LAMP app to run on Windows Server with IIS. There were even bonus points for apps that made use of SQL Server as their database!
We took in a bunch of submissions, and the judges have narrowed it down to two finalists, one student, one professional:
In the professional corner is Dac Chartrand, whose submission is Sux0r, a content-management system incorporating blogging, RSS aggregation, bookmark repository and photo publishing, all with a focus on naive Bayesian categorization and probabilistic content. The extra Bayesian/probabilistic goodies allow Sux0r to auto-categorize its content and users to train it to categorize better.
His student opponent, Carson Lam, submitted Transit DB, which aims to transform the way commuters interact with public transit information system. The application is Carson's answer to the question "How can we provide a modern, clean and user-friendly interface for transit data in cities?" The current version covers public transit for the Metro Vancouver region.
Dac and Carson will be competing for bragging rights and cold hard cash – may the best project win!
(For more details about the Ultimate FTW! Throwdown, see its page on PHPonWindows.ca.)
Interact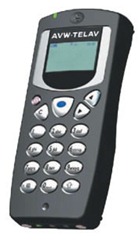 We don't want to do all the talking at Make Web Not War, we also want to hear from you!
That's why, when you arrive at the event, one of the first things we'll do is hand you an AVW-TELAV audience response doohickey. It's a microphone for the Q&A sessions at the end of each presentation, but it's also an instant audience polling device for quick surveys that we'll have throughout the day.
Chill Out
All work and no play makes you a dull and burned-out web designer or developer, which is why we've also got a lounge where you can just hang out, meet the speakers, ask me questions about Microsoft's web tools and tech and play XBox games.
Win prizes
We've got all sorts of prizes that you can win throughout the day, from software to books to trainign courses to Zune media players to XBox games to a brand new laptop.
Get Fed
Yup, we're providing breakfast and lunch. You can't conference on an empty stomach!
Okay, How Much to Attend?
Around this much: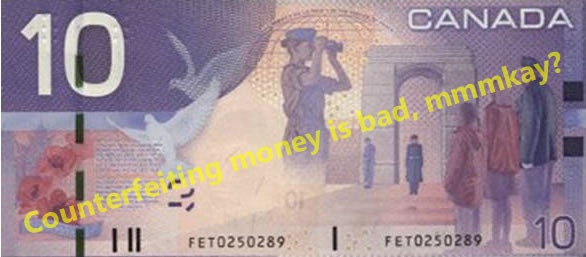 Instead of charging a standard admission, we're charging a "Donate what you can" rate, with all proceeds going to PREVNet.ca, an anti-bullying group. The suggested donation is a mere $10.
When and Where?
Once again, Make Web Not War takes place this Wednesday, June 10th and runs from 8:30 a.m. to 5:00 p.m..  It's happening in Toronto at Ryerson University's Ted Rogers School of Management (55 Dundas Street West – that's Dundas between Bay and Yonge, right by the Best Buy and Canadian Tire). There's parking aplenty in the area, and it's right by Dundas Station on the Yonge/University/Spadina subway line.
How Do I Register?
Visit the Make Web Not War registration page and fill out your details, and we'll see you there on Wednesday!