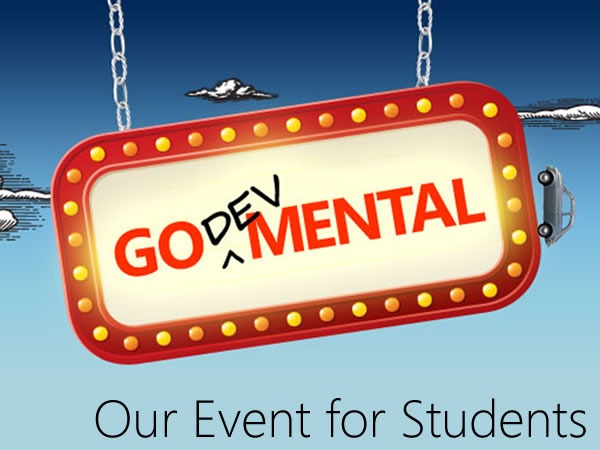 What is Go DevMENTAL?
Since TechDays – Microsoft Canada's cross-country developer and IT pro conference visiting 8 cities across Canada this fall – is a two-day event, we've got the venues for the entire 48-hour period, including evenings. Rather than have the session rooms (which are already set up for an audience, complete with A/V and seating) lie fallow, we decided to put them to good use and hold free community events in the evenings. One of these events is Go DevMENTAL, where we show college and university students what they can build using Microsoft's tools and technologies and give them a lot of free stuff.
Go DevMENTAL is a two-track conference, with one track devoted to web design and development using WebMatrix, Expression Blend and Silverlight, while the other covers mobile development for Windows Phone 7 using Silverlight and XNA. At the end of the evening, we give the students a token for DreamSpark, our program that gives them free Microsoft development tools and operating systems and a DVD full of goodies so they can start coding right away.
If you're a college or university student and would like to have an informative and entertaining evening where you learn cool new things, get free cool stuff, connect with industry people and get some help with your career, register for Go DevMental!
Where is Go DevMENTAL?
We'll be hitting these cities on these dates:
What Happened at Go DevMENTAL Vancouver?
Go DevMENTAL Vancouver took place on Tuesday, September 14th in the West Building of the Vancouver Convention Centre, a gorgeous venue (for more, see this entry).
I was helping out with the Phone track, so I only managed to get photos for its sessions. My colleages in Microsoft Canada's Developer and Platform Evangelism team, Christian Beauclair and John Bristowe, took care of the Web track, while Mark Arteaga of Redbit Development and I ran the Phone track.
Here's Mark setting up for his presentation, as the students and a number of professors milled into the room. We had some drinks and snacks set up in the back; that's what the line at the back of the room is all about:
And we're off! Mark did the first presentation, which focused on app development with Silverlight.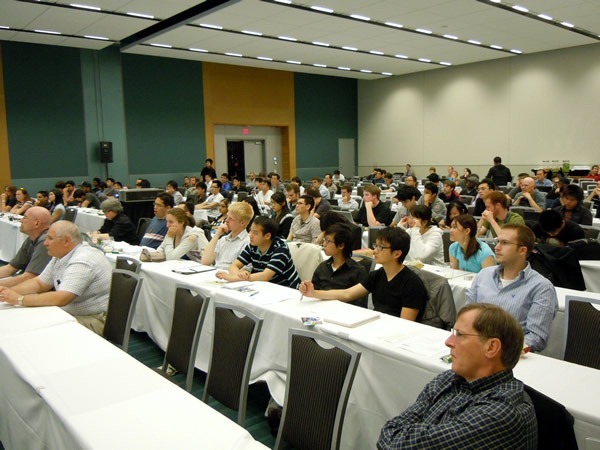 By the end of his session, he had a working, skinnable Magic 8-Ball app that responded to the user shaking the phone. The app was flexible enough so that it would be really easy to repurpose it as a fortune cookie app, the Wisdom of Master Yoda app and so on, without having to touch any code.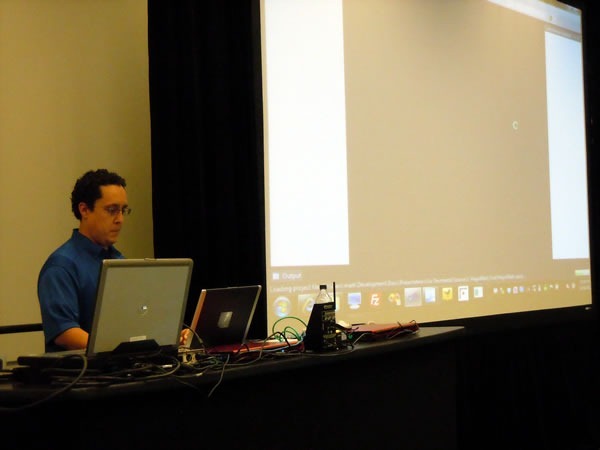 Mark's session was followed by a break, which concluded with a quick accordion performance by Yours Truly: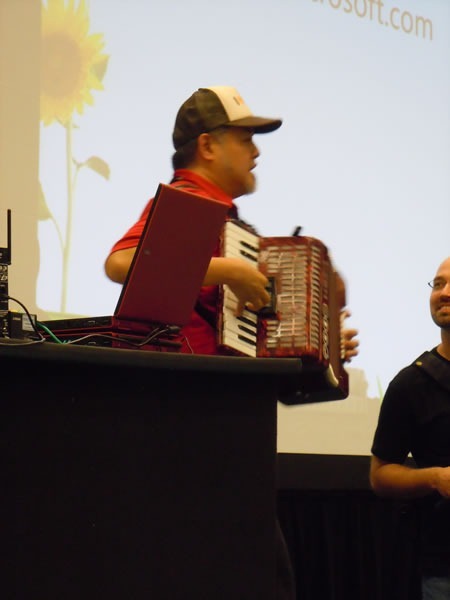 Followed by a quick word from Andrew Gottlieb, a Microsoft recruiter who works the UBC campus looking for the next great Microsofties. If you're looking for a job at Microsoft and you're a student in the Vancouver area, you're going to want to drop him a line.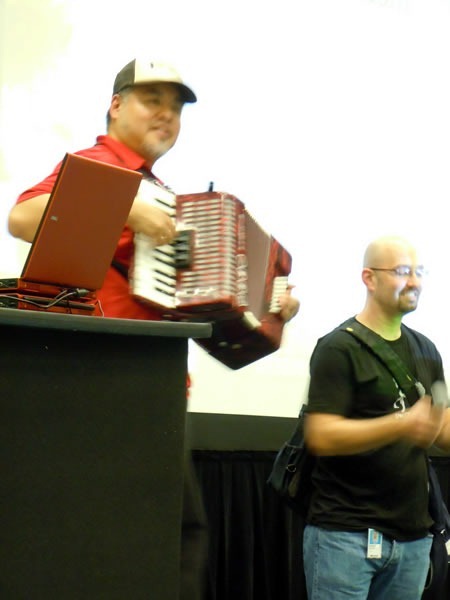 Then came my presentation, a live-coding exercise in which we start with "File –> New Project…" and in 45 minutes, put together a game in which you get to smack Justin Bieber around. Let it never be said that I let professionalism stand in the way of a good coding presentation'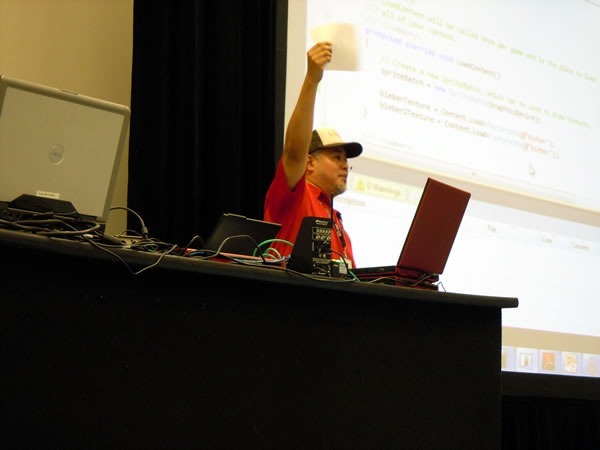 Live coding in front of an audience is not for the weak of heart, and you'd better really know your stuff. But when you do it right, it's fun for both you and the audience.
In these photos, I'm holding up two pieces of paper as a way of explaining collision detection using bounding boxes. It's not every day you see some goof in an ironic hipster trucker cap talking about videogame fundamentals!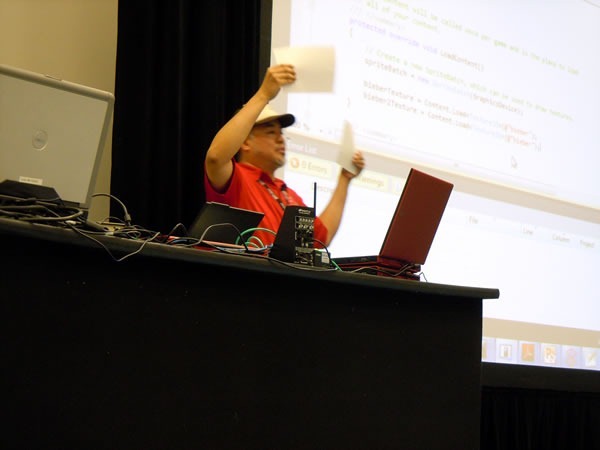 After the student sessions, I made my way to the faculty roundtable where we chatted with the professors about what Microsoft could do for them.
It was great meeting the students and faculty – I had a great time, and also learned a lot from them. I'm looking forward to the upcoming Go DevMENTAL cities. See you there!