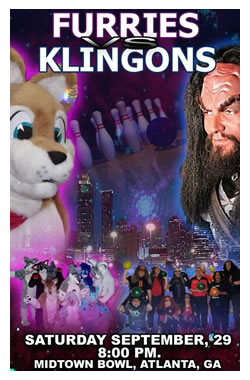 Well, tomorrow's the big night — the second annual bowling tournament where Atlanta-area Furries take on Atlanta-area Klingons takes place at Midtown Bowl (1936 Piedmont Cir NE, Atlanta, Georgia). A hearty Qa'pla! and Meow! to all who are attending!
Someone set up a poll at Poll Boutique where you can vote for your favourite team. As of this writing, the Furries and Klingons are dead even, each with 50% of the vote.
In honour of this weekend's event, I would like to share the most appropriate music in my collection for this event: the ever-lovin'
Star Trek Fight Music [1.8MB MP3]. Enjoy!