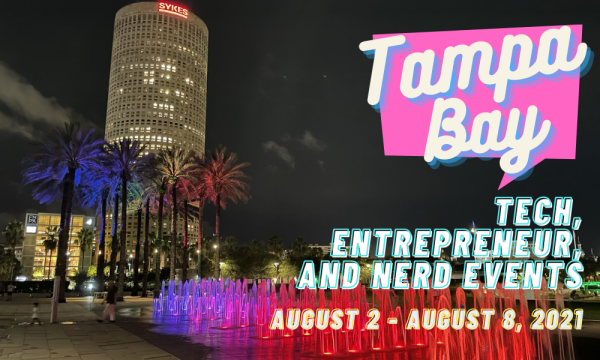 Here's your weekly list of tech, entrepreneur, and nerd events — plus a little area tech news — for Tampa Bay and surrounding areas for the week of Monday, August 2 through Sunday, August 8, 2021.
This is a weekly service from Tampa Bay's tech blog, Global Nerdy! For the past four years, I've been compiling a list of tech, entrepreneur, and nerd events happening in Tampa Bay and surrounding areas. There's a lot going on in our scene here in "The Other Bay Area, on the Other West Coast"!
This list includes events that would be of interest to techies, nerds, and entrepreneurs. It includes (but isn't limited to) events that fall under the category of:
Programming, DevOps, systems administration, and testing
Tech project management / agile processes
Video, board, and role-playing games
Book, philosophy, and discussion clubs
Tech, business, and entrepreneur networking events
Toastmasters (because nerds really need to up their presentation game)
Sci-fi, fantasy, and other genre fandoms
Anything I deem geeky
I'm moving this list to Fridays so that you've got more time to plan for the upcoming week. Let me know if this change works for you (or if it doesn't)!
By "Tampa Bay and surrounding areas", this list covers events that originate or are aimed at the area within 100 miles of the Port of Tampa. At the very least, that includes the cities of Tampa, St. Petersburg, and Clearwater, but as far north as Ocala, as far south as Fort Myers, and includes Orlando and its surrounding cities.
This week's events
Monday, August 2
Tuesday, August 3
Wednesday, August 4
Thursday, August 5
Friday, August 6
Saturday, August 7
Sunday, August 8
Tampa Bay area news roundup
CBRE Group is the world's largest commercial real estate services company, and as such, they follow the people who spend lots of money on office space. Remote work notwithstanding, a lot of high-value office space is used by tech, which is why they produce an annual "Scoring Tech Talent" report. The 2021 edition of this report came out on July 12th, and you can download it here.
Tampa Bay Business Journal's summary of the report includes these observations:
Out of the 50 largest tech talent markets in the U.S. and Canada, Tampa Bay ranked at the number 10 spot.
Millennials — and remember, the oldest in that cohort are now in their early 40s — are seen as fueling the growth of tech talent, and Tampa Bay has seen a 14.5% increase in their number since 2014, which accounts for over 84,000 people.
In the report, Tampa Bay's position dropped to 33 (out of 50 metros) from the previous year's standing, 29th.
Washlava, the Tampa-based "smart laundromat" company whose service makes it possible to reserve and pay for laundromat washers and dryers from a mobile app, closed $9 million in recapitalization and equity financing from Tampa's David A. Straz Jr. Foundation and Jacksonville's Monterey Private Capital. The press release for this funding also includes news that they're taking on Tommy Hart as interim CEO as founder/CEO Todd Belveal is leaving the company.
Do you have any events or announcements that you'd like to see on this list?
Let me know at joey@joeydevilla.com!
Join the mailing list!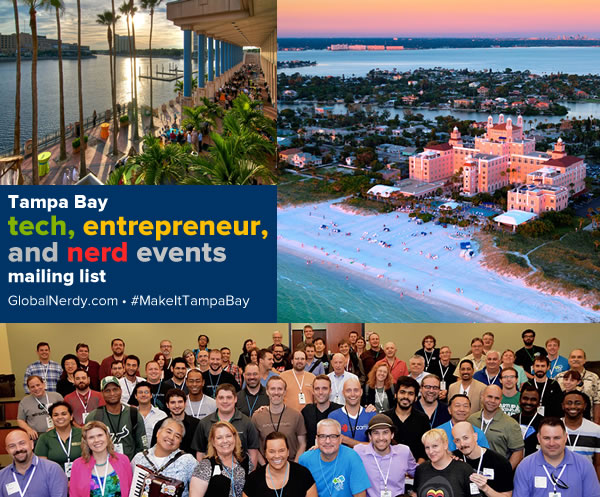 If you'd like to get this list in your email inbox every week, enter your email address below. You'll only be emailed once a week, and the email will contain this list, plus links to any interesting news, upcoming events, and tech articles. Join the Tampa Bay Tech Events list and always be informed of what's coming up in Tampa Bay!