Here's your weekly list of tech, entrepreneur, and nerd events — plus a little area tech news — for Tampa Bay and surrounding areas for the week of Monday, July 5 through Sunday, July 11, 2021.
This is a weekly service from Tampa Bay's tech blog, Global Nerdy! For the past four years, I've been compiling a list of tech, entrepreneur, and nerd events happening in Tampa Bay and surrounding areas. There's a lot going on in our scene here in "The Other Bay Area, on the Other West Coast"!
By "Tampa Bay and surrounding areas", this list covers events that originate or are aimed at the area within 100 miles of the Port of Tampa. At the very least, that includes the cities of Tampa, St. Petersburg, and Clearwater, but as far north as Ocala, as far south as Fort Myers, and includes Orlando and its surrounding cities.
This week's events
Don't forget that the week follows the holiday weekend, with Monday being a holiday, and a lot of people taking at least part of the week off. This the one of the slower times of the year, so make sure you double-check with its organizers to be sure that it's actually taking place!
Monday, July 5
Tuesday, July 6
Wednesday, July 7
Thursday, July 8
Friday, July 9
Saturday, July 10
Sunday, July 11
Tampa Bay area news roundup
'Visitor economy' and 'cultural infrastructure' propel Tampa, St. Pete metro area to 'best city' honors — The Tampa Bay area has been named the number one city in Florida and number 22 in the U.S., according to a study conducted by Resonance Consultancy, a Vancouver-based global advisor on tourism, real estate, and economic development.
So many Tampa Bay mobile dev job openings, so few applicants — While checking LinkedIn earlier this week, I noticed that there were a lot of iOS and Android developer jobs in the Tampa Bay area, and many of them didn't have any applicants (or at least any applicants who applied via LinkedIn).
Tampa Bay tech grows as more workers move to the area — Tampa Bay is ranked one of the fastest-growing cities in the United States, and tech is one of its fastest-growing industries, accounting for nearly 8% of the entire workforce, according to CompTIA.
Tampa Bay companies raised another $13M in June — A small but mighty amount of funding deals kept the Tampa Bay technology scene holding strong in June. The group of companies raised just over $13 million for the month, nearly identical to May's $13 million total.
Tijuana Flats is the latest major brand to partner with Tampa tech company — Tampa-based technology company SiteZeus has announced its latest partnership with Tijuana Flats, adding to a long line of restaurant industry giants it currently helps to better find where companies should open new locations.
Do you have any events or announcements that you'd like to see on this list?
Let me know at joey@joeydevilla.com!
Join the mailing list!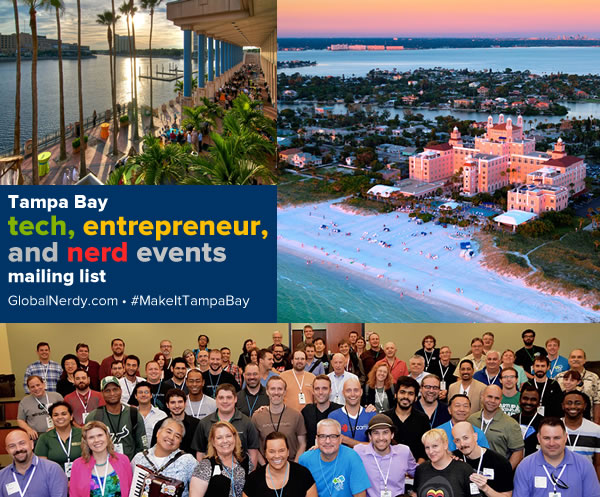 If you'd like to get this list in your email inbox every week, enter your email address below. You'll only be emailed once a week, and the email will contain this list, plus links to any interesting news, upcoming events, and tech articles. Join the Tampa Bay Tech Events list and always be informed of what's coming up in Tampa Bay!