Here's your weekly list of tech, entrepreneur, and nerd events — plus a little area tech news — for Tampa Bay and surrounding areas for the week of Monday, July 12 through Sunday, July 18, 2021.
This is a weekly service from Tampa Bay's tech blog, Global Nerdy! For the past four years, I've been compiling a list of tech, entrepreneur, and nerd events happening in Tampa Bay and surrounding areas. There's a lot going on in our scene here in "The Other Bay Area, on the Other West Coast"!
By "Tampa Bay and surrounding areas", this list covers events that originate or are aimed at the area within 100 miles of the Port of Tampa. At the very least, that includes the cities of Tampa, St. Petersburg, and Clearwater, but as far north as Ocala, as far south as Fort Myers, and includes Orlando and its surrounding cities.
This week's events
Monday, July 12
Tuesday, July 13
Wednesday, July 14
Thursday, July 15
Friday, July 16
Saturday, July 17
Sunday, July 18
Tampa Bay area news roundup
Here's Tampa Bay Business Journal's roundup of their biggest tech stories from the first half of the year.
"Successful communities have certain attributes that put them in the running to attract the talent that a vibrant economy requires. Fortunately, St. Petersburg is rich in the cultural and infrastructure assets that resonate with tech entrepreneurs and startup founders. These include a great quality of life, walkable urban spaces, a thriving arts scene, a research university that ranks in the top ten for U.S. patents, and a nearby airport that travelers named #2 in a national J.D. Power's 2020 customer satisfaction study. And of course, weather and natural beauty that can't be beat."
"TampaBay.Ventures has led an investment into St. Petersburg, Florida-based Procoto, a procurement and spend analysis platform for businesses. Procoto is a graduate of the famed Y Combinator startup accelerator program and the first Y Combinator graduate located in the Tampa Bay area. The investment represents the first investment from TampaBay.Ventures, a new venture capital firm dedicated to backing Tampa Bay's most promising startups."
"Allen Clary, author of Quit to Start, has been supporting entrepreneurs for years with organizations including Tampa Bay Wave, Upsurge Florida, and Tiger 21. Now he's bringing his own thought leadership conference, Unlock Your Future Now, to Tampa Aug 27 through 29. In addition to Allen, speakers also include Janel Laravie, Johnny Crowder, Marcus Howard, Mariagrazia Indenbosch, Garyn Angel, Kaylan Boss, Kat Stylez, Sasha Jovicic, Holly Callaway, and Adam Anderson."
"The idea emerged as all the events around Black Lives Matter unfolded and Lee's clients began requesting more Black representation in their video projects. When Lee searched multiple stock footage platforms, he quickly recognized a problem: A substantial lack of stock footage depicting Blacks in ordinary, real life circumstances. Not only was there no one-stop shop for such content, but piecing it together was a challenge. He started mulling it over with Edgerton-Maloy, his fiance, and they came up with the solution: Create a new platform designed to provide the kind of footage that was lacking."
Do you have any events or announcements that you'd like to see on this list?
Let me know at joey@joeydevilla.com!
Join the mailing list!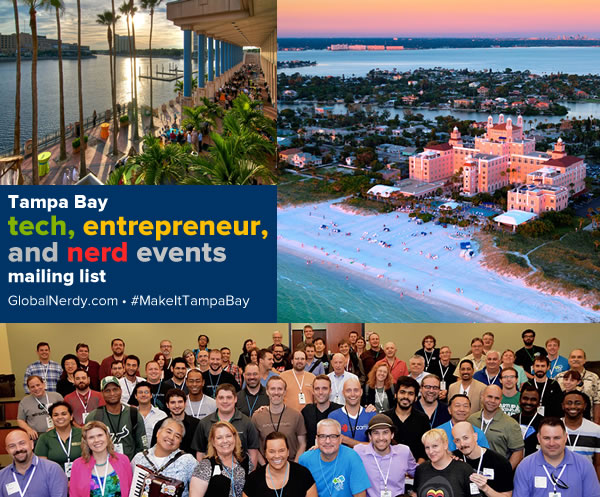 If you'd like to get this list in your email inbox every week, enter your email address below. You'll only be emailed once a week, and the email will contain this list, plus links to any interesting news, upcoming events, and tech articles. Join the Tampa Bay Tech Events list and always be informed of what's coming up in Tampa Bay!