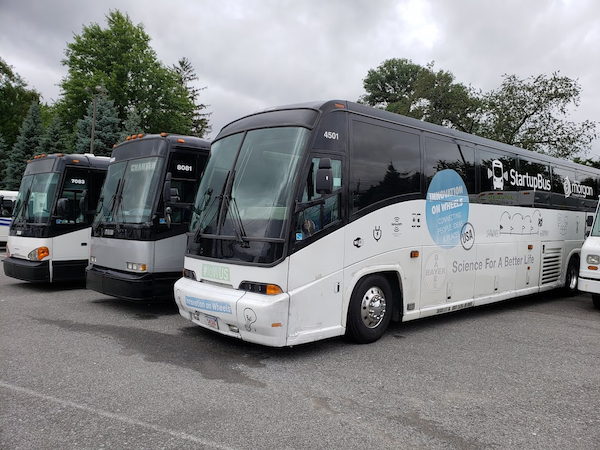 The title of this post should be a big hint: Everything you need to know in order to win StartupBus North America 2022 is contained within a podcast. This is the third in a series of posts covering the "Startup Bus" series of episodes from Gimlet Media's Startup podcast, which covered the New York bus' journey during StartupBus 2017.
(Did you miss the first three articles in this series? Here's part one, here's part two, and here's part three.)
I'm posting this series as a prelude to StartupBus 2022, which takes place at the end of July. I was a contestant — a buspreneur — on the Florida bus in 2019, which made it all the way to the finals and finished as a runner-up. Now I'm a coach — a conductor — on the 2022 edition.
Here's episode 4 of the podcast series…
…and here are the lessons I took away from this episode:
If you can find teammates that are on your wavelength, you can achieve a lot. Although they're on the Florida StartupBus and not the bus that the podcast is covering, they remain a source of fascination for Eric, the host. Not only do Robert Blacklidge and Trey Steinhoff get along so well, but they also work so well together, and the synergy will take them far together. (Full disclosure: I worked with Trey at Lilypad, and can vouch for the fact that he is a great teammate. I also know Robert and can understand why he and Trey got along so well.)
A conflict within the team doesn't have to destroy the team; in fact, not only can conflicts be resolved, but they can even strengthen a team. Ash from the Denari team had rubbed many of his teammates the wrong way, and there was talk of kicking him off the team. Things have turned around in this episode: everyone's getting along, and Ash is considerably less acerbic — even optimistic-sounding.
The StartupBus format borrows some of its ideas from reality TV game shows, which means that there can be intentional confusion. "The teams have been getting different information about the competition all day. They're hearing conflicting things about timing, about whether or not pitch decks are allowed. And this confusion, it all feels weirdly intentional."
StartupBus is supposed to be a challenge. It's not supposed to be easy, and as anyone who's done it before will tell you, it can be gruelling at times. And that's a good thing — if StartupBus works as designed, you shouldn't be exactly the same person at the end of the ride. As one of the Denari people puts it: "This is a Navy SEAL training program for startups. This is like we're going to push you to that to the limit of your mental strength, like every single person on their team is that like living in a role that's very different from what they walked on the bus wanting to do."
Speaking about come out of StartupBus a little different, you can see some of the buspreneurs' change — they're more certain, more directed, more convinced of their ability to change their personal course through life.
You can most definitely incorporate singing and music in your pitch. The pitch for singing telegram startup Yeti featured one of their buspreneurs in a full Marilyn Monroe costume, singing Katy Perry's Firework, but with StartupBus-specific lyrics. I also did that with the accordion at StartupBus 2019.
You can also use audience participation in your pitch. Tampa-based CourseAlign did that by asking the audience for a show of hands, using questions that would get a specific kind of result.
Be ready for tough questions. During the Q&A section of their pitch, Denari — the Blockchain-powered GoFundMe-like startup — is asked how they plan to prevent their system from being turned into a money-laundering platform.
Don't be too hard on yourself. After getting that tough money-laundering question, Colleen Wong, who's been leading Denari, felt bad about her answer and said that she didn't feel that she was a good leader. Eric the host had to reminder her that she did the near-impossible — "Are you kidding me?! Have you, like, seen yourself this week?! …You, like, pulled together the, like, craziest team on the bus. It was a great thing."
Anything can happen in the judging room. Eric the host was invited into the judging room to record a reenactment of judges' discussion as they tried to decide who would move the next round. But as they reenacted their discussion, they started changing their minds. The judging process can turn on a dime.
There is a downside to making it into the finals: It means that although you're in a party town, you can't party. You're going to be working on your product and your pitch for the finals. Trust me on this one — I was in New Orleans, one of the best party towns in the country, and I spent Saturday night with my team working on our startup.