First, Andy Serwer, managing editor at Fortune magazine wrote an article titled This Crisis Could Have a Happy Ending. In it, he calls this first decade in the 21st century "one big washout for investors" and "a lost decade".
He also wrote:
I believe that in order for the market to achieve a sustainable advance that is above the mean, we are due for some unforeseen positive event or events. Think about it. In the 1990s stocks went way up because of an unanticipated revolution in technology, i.e., networking and the Internet. In this decade we had a slew of unexpected negative events – bookended by 9/11 and this current meltdown. At some point, and it may be a few years from now, we will likely be subjected to an unforeseen positive.
Venture capitalist Fred Wilson used this article as a launching point for his article, A Lost Decade – But Not for Everyone. In it, he examines the stock prices of some of the big players on the Dow – 3M, Citigroup, GM, Intel, Johnson and Johnson and United Technologies – and declared the Dow "a mixed bag":
A few disasters (GM, Citigroup, Intel), a bunch of so so stocks (like 3M) and a some winners (like J&J and United Technologies).
For the best examples, he says you have to look beyond the Dow, where you'll find Apple ("still up 3.5x in nine years")…
and Google ("still up 2.5x from its IPO in mid 2004"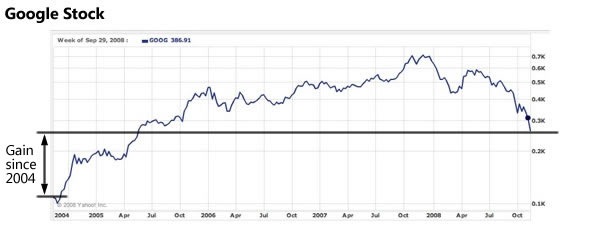 Based on these observations, he writes:
When I think about what's really going on in this "lost decade" it occurs to me that we are finally witnessing the impact of the end of the industrial era and the emergence of the information era. That's not to say every "information stock" has done well. Intel and Microsoft have been a disaster. IBM and HP are down for the decade to date. But we also have to realize that the late 90s drove all information stocks up to crazy levels in anticipation of exactly this shift taking place. The market got it right, but as usual it overshot.

…

It will be stocks like Apple, Google, and companies we don't even know about yet that will lead us back out of this downturn. And I bet there will be a bunch of companies from what we used to call the "emerging markets" that will lead us out of this mess. I think I'll call them the "emerged markets" from now on.
Howard Lindzon, whom I met recently at Startup Empire, chimes in with his article, Has it Really Been a Lost Decade in the Stock Market?
If WE are to learn one thing from the 'Lost Decade' of S&P, Nasdaq and Dow returns is that any idiot can make money in an up market. It is the down markets that separate the winners and losers.

…

The 'Lost Decade' will spawn many great winners in the decades to come, and the smallest investor has the biggest chance to reap the rewards from a more level playing field of transparency, reduced supply, stronger companies. Don't be cynical at exactly the wrong time.

…

It's time to build the business of your dreams and quit hoping for anything else.
The underlying message in all three of these articles is that the businesses that will thrive in this down economy will address some kind of need rather than a want and be "underowned" and "non-leveraged" – in other words, small and not owing any money. Sounds like small businesses and startups to me.