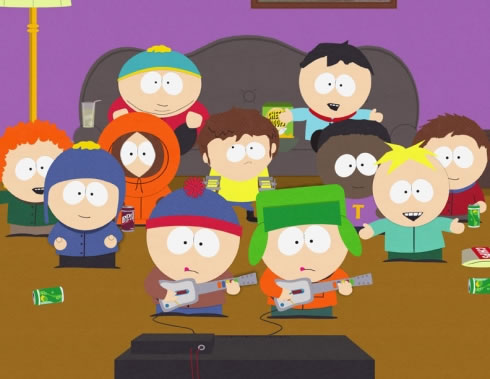 The latest videogame to get featured on South Park — and lampooned a little to boot — is Guitar Hero, in an episode (in)appropriately titled Guitar Queer-o. The episode guide has this brief summary:
Stan and Kyle are hooked on Guitar Hero. But Stan's superior skills on the video game damage his friendship with Kyle.
Here's a quick snippet from the opening act, in which Stan and Kyle play Kansas' Carry On Wayward Son, one of the songs featured on Guitar Hero II:

Can't see the video? Click here.
When Randy saw the kids playing Guitar Hero and tried to impress them by actually playing Carry On Wayward Son on a real guitar and singing as well, only to be told "that's gay, Mr. Marsh". Not only does the real guitar fail to win the kids over, but later that night, Randy finds out that real guitar-playing skill does not translate into Guitar Hero skill. The bit where Thad, the professional backup player, played Guitar Hero without a console — "acoustically" — was a laugh-out-loud moment. I don't want to spoil the story, so I'll just simply say that the "real vs. virtual" and "rock star" themes get pushed farther, to hilarious results.
The episode aired last night and won't air here in Canada for a few more weeks, but it doesn't matter — the entire episode is online at South Park Zone.