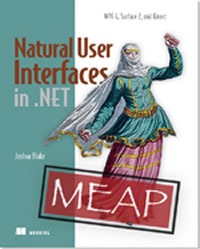 It's a work in progress, but it's an important one: Manning Publications' Natural User Interfaces in .NET, written by Joshua Blake. It's a primer on creating natiral user interfaces — NUIs — using Microsoft technologies such as WPF 4, Surface 2 and Kinect.
Here's an excerpt from the publisher's description:
Natural User Interfaces in .NET is a hands-on guide that prepares you to create natural user interfaces (NUI) and great multi-touch experiences using the WPF and Silverlight multi-touch APIs. This book starts by introducing natural user interface (NUI) design concepts that everyone needs to know. It then quickly moves to the WPF Touch API and Surface Toolkit guiding the reader through a multitouch NUI application from concept to completion. Along the way, you'll see where these concepts can be extended to Silverlight via its touch interface.
Today only — that's May 16, 2011 — you can get the MEAP (Manning Early Access Program) preview PDFs, which are updated regularly and the final print edition of the book for a mere USD$25.00 (that's $24.23 Canadian)! Just enter dotd0516 in the promotional code box when you check out at Manning's site.