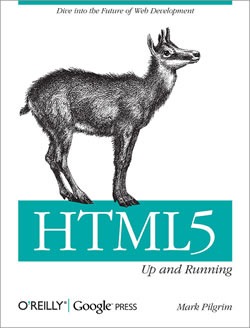 Want to get started developing sites and web applications that run on all modern browsers, including the upcoming Internet Explorer 9? You'll need HTML 5 (along with CSS 3 and JavaScript) and a handy guide like Mark Pilgrim's new book, HTML5 Up and Running.
If Mark's name sounds familiar, it's because he's written all sorts of great guides, from Dive Into Python to Dive Into Accessibility to Dive into Greasemonkey to Greasemonkey Hacks, and much of his work is available as both for-pay books and free books off his website.
Today and today only (Friday, August 20, 2010), you can get the ebook version (PDF, ePub and mobi) of HTML5 Up and Running for just USD$9.99 (it normally goes for USD$23.99). Just go to the HTML5 Up and Running page in the O'Reilly site, order the ebook and  use the discount code DDHUR when you check out!
(And while you're at it, take the latest platform preview of the HTML5-ready Internet Explorer 9!)
This article also appears in Canadian Developer Connection.
{ 0 comments }