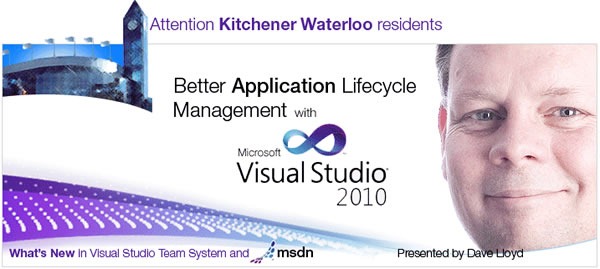 If you're in the Kitchener-Waterloo area and want to know more about Visual Studio 2010, you should check out the Visual Studio 2010 presentation by ObjectSharp and Microsoft on the morning of Thursday, January 21st.
Dave Lloyd of ObjectSharp will walk you through the goodies in the upcoming Visual Studio 2010 and how they can help you and your team with all those things you do in your day-to-day development, from collaboration to architecture to prototyping to testing and debugging.
You'll also learn about the Ultimate Offer, which is a great way to level up your Visual Studio licence and MSDN subscription levels. This offer won't be around forever!
This event is free-as-in-beer to attend; all you have to do is register. I've provided the details below:
How do I sign up for the event?
Register here and enter this invitation key when prompted:

DEAA69

When is the event?
Thursday, January 21st, 2010.
Registration takes place from
9:00 – 9:30 a.m.
Presentation takes place from
9:30 a.m. – 11:30 a.m.

Includes a continental breakfast buffet

Where is the event?
St. George Hall
655 King Street North
Hall #2
Waterloo, Ontario

There's free parking at the event in the lot just off King Street.