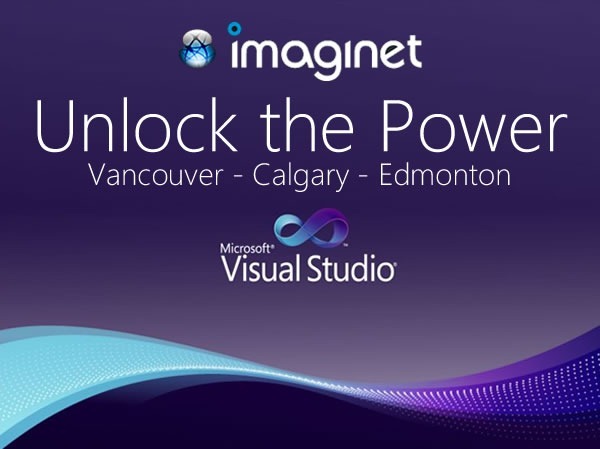 Our friends at Imaginet are hosting two-hour events in Vancouver, Edmonton and Calgary where they'll show Visual Studio developers how to get up to speed with all the goodies that have packed into Visual Studio 2010. Here's what they'll cover:
What's new in Team Foundation Server 2010

Learn about important updates and enhancements to Team Foundation Server in the 2010 release.  Understand key components such as: Branches as a first class citizen, Branch visualization, and Change set history visualization.  See how using Team Project Collections can improve manageability and scalability.  Imaginet will demonstrate hierarchical work items and typed work item relationships as well as improvements to Team Build including features such as Buddy Builds and Gated Check In.

Testing Tools & Rich Developer-Tester Interaction with Visual Studio 2010

Imaginet will demonstrate the new testing tools in Visual Studio 2010 and how the generalist tester is now brought into the full Microsoft ALM platform.  The new Test Professional product is a purpose-built tool for test professionals to plan, execute and manage testing of your web, Windows Forms or WFP application.  See how the rich defect reporting including IntelliTrace and other information about the execution and system under test, helps eliminate the "I can't reproduce the bug" response from development.  Test Lab Management can also assist in streamlining the setup and teardown of test labs for test.
These events are free, and they'll be taking place in the following cities on the following dates: