It's On!
When Windows Phone 7 was first shown to the public in March, we got a taste of the Games hub and were told that Microsoft was working with a number of big game developers to bring games to the new phone platform. Late yesterday, we got the announcement of the first games coming to WP7:
It's one thing to see a slickly-produced ad showing the games, but it's an entirely different thing to see actual games being played on an actual phone. Here's Engadget's video of the game experience on one of the prototype phones – the Samsung "Taylor", which I have and which you might have seen at the last "Coffee and Code" event in Toronto:
Here's what Engadget had to say about the experience:
We'll preface this by saying that both the hardware and software we demoed was still unfinished (the latter being the Samsung Taylor dev phone and the LG QWERTY model we broke news of on the Engadget Show). Regardless, the gameplay for the arcade titles seemed excellent, with frame rates holding fast even during graphically intensive 3D sequences (such as the chaotic, scattered-pixel play of Rocket Riot). The Harvest, while a bit familiar to our eyes, still showed the graphic promise of the platform. Gameplay was definitely well suited to a touchscreen device, though Microsoft's Kevin Unangst told us that developers could target controls for both touch and QWERTY-equipped phones (provided that a touch version was always present). The screen response seemed accurate and sensitive, reacting quickly to our input. Particularly in the Crackdown title — a tower defense game "set in the Crackdown universe" — pinch zooming, rotation, and finger tracking was excellent.
The New New Xbox Experience
The "New Xbox Experience" or "NXE" – the revamped Xbox user interface that introduced avatars – comes along for the ride on Windows Phone. You can access your Xbox Live account on WP7, check out your gamerscore and achievements, and like Xbox-based games, your avatar can also be used within WP7 games and apps.
In this Engadget video, we see avatars being used to give a little twist to some standard smartphone apps such as "flashlight", "spirit level" and "coin flip":
Here's another video showing more avatar action as well as some of the social networking features of Xbox Live, as done on WP7:
The Games
The games that have been announced for Windows Phone 7 so far:
3D Brick Breaker Revolution (Digital Chocolate)
Age of Zombies (Halfbrick)
Armor Valley (Protégé Games)
Asphalt 5 (Gameloft)
Assassins Creed (Gameloft)
Bejeweled™ LIVE (PopCap)
Bloons TD (Digital Goldfish)
Brain Challenge (Gameloft)
Bubble Town 2 (i-Play)
Butterfly (Press Start Studio)
CarneyVale Showtime (MGS)
Castlevania (Konami Digital Entertainment)
Crackdown 2: Project Sunburst (MGS)
De Blob Revolution (THQ)
Deal or No Deal 2010 (i-Play)
Earthworm Jim (Gameloft)
Fast & Furious 7 (i-Play)
Fight Game Rivals (Rough Cookie)
Finger Physics (Mobliss Inc.)
Flight Control (Namco Bandai)
Flowerz (Carbonated Games)
Frogger (Konami Digital Entertainment)
Fruit Ninja (Halfbrick)
Game Chest-Board (MGS)
Game Chest-Card (MGS)
Game Chest-Logic (MGS)
Game Chest-Solitaire (MGS)
GeoDefense (Critical Thought)
Ghostscape (Psionic)
Glow Artisan (Powerhead Games)
Glyder 2 (Glu Mobile)
Guitar Hero 5 (Glu Mobile)
Halo Waypoint (MGS)
Hexic Rush (Carbonated Games)
I Dig It (InMotion)
iBlast Moki (Godzilab)
ilomilo (MGS)
Implode XL (IUGO)
Iquarium (Infinite Dreams)
Jet Car Stunts (True Axis)
Let's Golf 2 (Gameloft)
Little Wheel (One click dog)
Loondon (Flip N Tale)
Max and the Magic Marker (PressPlay)
Mini Squadron (Supermono Limited)
More Brain Exercise (Namco Bandai)
O.M.G. (Arkedo)
Puzzle Quest 2 (Namco Bandai)
Real Soccer 2 (Gameloft)
The Revenants (Chaotic Moon)
Rise of Glory (Revo Solutions)
Rocket Riot (Codeglue)
Splinter Cell Conviction (Gameloft)
Star Wars: Battle for Hoth (THQ)
Star Wars: Cantina (THQ)
The Harvest (MGS)
The Oregon Trail (Gameloft)
Tower Bloxx NY (Digital Chocolate)
Twin Blades (Press Start Studio)
UNO (Gameloft)
Women's Murder Club: Death in Scarlet (i-Play)
Zombie Attack! (IUGO)
Zombies!!!! (Babaroga)
…with more on the way, as big game dev companies sign up and Microsoft's Mobile Games Studio kicks into high gear.
How Do You Get in on Some of That Action?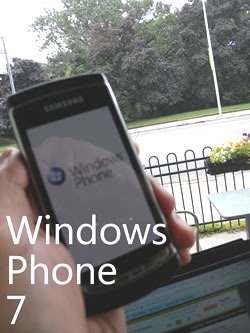 If you want to just play Windows Phone 7 games, it's easy – the phone comes out in the fall, in time for the holiday shopping season.
If you want to build Windows Phone 7 games, it takes a little more work, but it's worth it. You'll need to:
Get your hands on the development tools. They're free-as-in-beer and you'll get:

The IDE, Visual Studio for Windows Phone Express (and if you have Visual Studio 2010, the necessary parts to do WP7 development)
Windows Phone emulator
Silverlight for Windows Phone (app-building framework)
XNA 4.0 for Windows Phone (game-building framework)
Expression Blend for Windows Phone (UI-building tool)

Learn XNA development. There are a number of good tutorials out there, including:
And finally, keep an eye on this blog. As a Windows Phone 7 Champ, I've got a direct line to the WP7 team, I always point you to the good stuff, and I've got some surprises in store!