Here's Rick Claus MCing the lunchtime show:
One of the lunchtime demos was a tour of all the goodies in the upcoming Windows Phone 7, which was given by Anthony "The Mobile Situation" Bartolo:
"Windows Phone 7 is HOTT!" You could even hear that he said "HOTT" with two T's:
And his Windows Phone 7 device naturally had the Jersey Shore soundtrack loaded:
Edmonton is the latest city to be added to the TechDays cross-Canada tour, making for a grand total of 8 cities. Being a new city to the tour and judging by the population, we figured that we should expect about 250 people to attend. The Edmontonian techies stepped up and impressed us by doubling that number! Nicely done!
We love Edmonton's enthusiasm for Kinect games: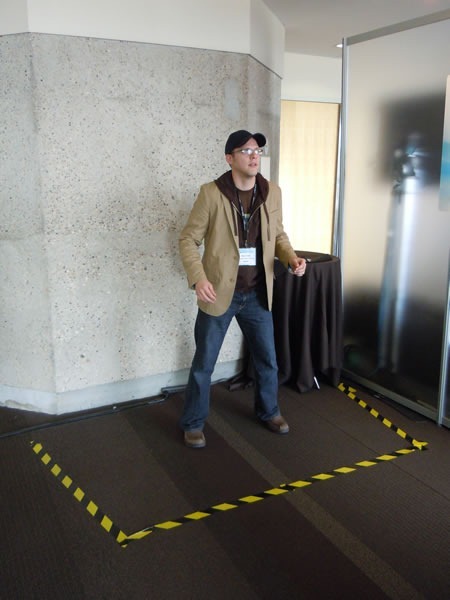 Here's Anthony again, doing a turbo talk on Windows Phone Marketplace. He announced to the crowd that although the Marketplace registration fee is CAD$120, if you successfully submit 2 apps before the launch date, we'll refund it. So start writing those apps!
The deep tech discussions continued in the Ask the Experts area today:
And the OnX folks were there as well, providing internet access and raffling off an Xbox 360:
The whiteboards in the Ask the Experts area were a good place to let your skills and services be known:
When we say "Come to the dark side; we've got cookies", we're not kidding!
There was more than just the Kinect in the Collaboration Lounge, but a whole host of cool machines from our hardware sponsor, Dell. Many of these machines were equipped with touchscreens to show off touch tech and the touch features built into Windows 7:
The woman in the photo below is playing with a Dell Latitude XT2, my touch-equipped road warrior laptop, standard issue for Canadian developer evangelists on the Windows Phone 7 Champs team:
Here's the XFR – we often say that it's short for "eXpressly For Rick", who's notorious for killing technology. The XFR is the military-grade ruggedized version of the XT2 and can be dropped on the floor repeatedly without conking out.
This is a Dell 19" all-in-one touchscreen-equipped desktop machine: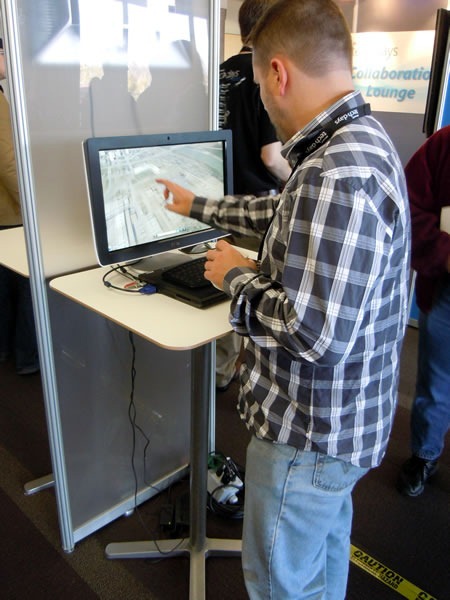 Anthony Vranic gives us the lowdown on DirectX and accessing it via managed code. I recommend doing it either with the Windows 7 API Code Pack or if you're doing games, XNA:
The last session of the last day is always a little challenging. The audience is tired and thinking about going home, and you have to do a little extra to get their attention. Luckily, I saved some interesting presentations for that slot, and got two great speakers. In the Optimizing the Development Process track, my fellow Developer Evangelist John Bristowe used good ol' jazz hands to liven up his session on Visual Studio 2010 tips and tricks:
"These are not the droids you're looking for."
"Hey fellas! What's cooler than bein' cool?"
"ICE COLD!"
In the Developing for the Three Screens and the Cloud track, Todd Anglin, Telerik's Chief Evangelist, was giving John a run for his money in the Expressive Presenter Hands contest as he talked about ASP.NET MVC:
"Oh, waiter! Cheque, please!"
Here's Todd getting "gangsta":